Jeff Sessions denies allegations of racism at attorney general confirmation hearing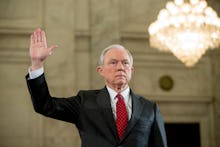 Sen. Jeff Sessions, R-Ala., took the allegations of racism levied against him head on Tuesday during his attorney general confirmation hearing, going off script from his opening remarks to deny that he ever said the racist comments attributed to him in the 1980s.
"I never claimed the NAACP was un-American, or that a civil rights attorney was a disgrace to his race," Sessions said, referring to allegations made against him in 1986, when then-President Ronald Reagan had nominated Sessions for a federal judgeship.
Sessions went on to say that allegations that he sympathized with the Ku Klux Klan were "false charges," adding that he "abhor[s] the Klan and what it represents and its hateful ideology."
Sessions' defense against allegations of racism were not part of his prepared remarks that had leaked Tuesday morning. And the fact that he took the racism allegations head on is a sign he's worried they could negatively impact his confirmation.
The hearing was plagued by protests from the moment it kicked off, with many protesters chanting about the KKK or wearing Klan regalia. 
But Senators introducing Sessions praised his record, also vouching for his character and condemning what they called false allegations of racism.
Sessions' confirmation hearing is expected to continue throughout the day Tuesday.