Trump Inauguration 2017: Charlotte Church turns down performance with a perfect tweet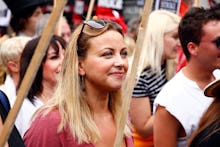 After declining an invitation to perform at President-elect Donald Trump's inauguration via Twitter, actress and singer-songwriter Charlotte Church engaged in a feud with journalist and TV personality Piers Morgan on the social media site. 
Church wrote on Twitter, "@realDonaldTrump Your staff have asked me to sing at your inauguration, a simple Internet search would show I think you're a tyrant. Bye." 
Morgan responded to Church's tweet, belittling the classical and pop singer who has made a point of engaging in political activism. The two then swapped Frank Sinatra videos, with Church posting a link to Sinatra singing "I've Got You Under My Skin" and Morgan responding with "Something Stupid." 
Church and Morgan have feuded in the past. She once called him a "f*cking twat" in an interview with Vice: When asked who the "worst person on Twitter" was, she responded, "Piers Morgan is a complete f*cking twat. It's what I was just talking about. He think it's OK to spout a load of venomous, hateful things, which he then tries to back up with statistics. I really, really don't like Piers Morgan. And also, through that whole hacking thing, he got away with murder. I just think he's a bit of a heinous human being." 
Morgan responded on Twitter, calling her a "dimwit D-list has-been." 
Church also told Stylist she wanted to "storm out" during an interview with Morgan about her involvement in the group Hacked Off. As it turns out, Morgan has feuded with and attempted to shame other numerous celebrities on Twitter.  
Church is certainly not the first artist to decline a request to perform at Trump's inauguration. Rumors circulated that Sir Elton John had been asked to play, but it was later confirmed the British star would not perform. The Beach Boys are reportedly considering the offer, though KISS frontman Gene Simmons, Celine Dion, Andrea Bocelli and Garth Brooks have all declined to participate. 
X-Factor contestant Rebecca Ferguson was asked to perform, but she said she would only do so if she could sing the protest song "Strange Fruit," and later confirmed she did not accept the offer. "There are many grey areas about the offer for me to perform that I'm unable to share right now, but I will not be singing," Ferguson said in a statement.
The inaugural committee is reportedly having difficulty confirming performers and is rumored to have offered diplomatic positions, as well as money, to talent bookers in exchange for securing A-list artists. Trump took to Twitter to address the reports: 
Scheduled performers for the inauguration include the Talladega Marching Tornadoes, the Rockettes, the Mormon Tabernacle Choir and America's Got Talent contestant Jackie Evancho.