'Super Mario Odyssey' trailer, release date, pre-order, price, gameplay and more — updated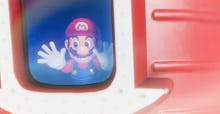 The Nintendo Switch Mario game is here: Super Mario Odyssey will be coming to the Nintendo Switch in the window of "holiday 2017."
Arg. That's a long time to wait. But it looks like it'll be worth it: Like Super Mario 64, Super Mario Odyssey will be an open-world adventure game. However, it looks like Mario will be venturing out of the Mario Kingdom and into worlds that resemble real-world cities and locations.
This time around, Mario will also have a new hat that has eyeballs on it. It's not clear what exactly this hat can do, but it looks pretty cute.
In the trailer, Mario explores several locations, including a city that closely resembled New York. At one point in the trailer, Mario throws his hat out in front of him, only to have it zoom back into his hand like a boomerang. He's also able to throw his hat out and hop on it, using it like a temporary platform to cross large gaps.
Super Mario Odyssey trailer: See the gameplay here
Super Mario Odyssey pre-order
Amazon has Super Mario Run available for pre-order. It costs $59.99 and is listed with a Dec. 31, 2017, release date. If you have Amazon Prime, it drops the price down to $47.99.
More Nintendo Switch news
For more info on what Nintendo revealed during its livestream, here's where you can get details on the Nintendo Switch price, release date, pre-orders and battery life. If you're interested in the Nintendo Switch's games, here's info on the new Super Mario Odyssey game, Legend of Zelda: Breath of the Wild, Splatoon 2, Xenoblade Chronicles 2, 1-2-Switch and the goofy boxing game Arms.