Oscars time and date: Everything you need to know about the 2017 Academy Awards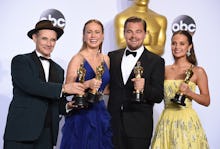 With voting for this year's Oscar nominees closing Friday, Jan. 13, it's time to start looking forward to the 89th Academy Awards. Since the Golden Globes have come and gone and BAFTA nominations were announced Tuesday, we can officially say awards season is here.  
The Oscar nominations
This year's Oscar nominations will be announced Thursday, Jan. 24, which means you have a few more weeks to start working on your predictions.
The Oscar luncheon
After the nominations have been announced, all the nominees gather together for the annual Oscar luncheon on Monday, Feb. 6.
The final voting
The final voting begins Monday, Feb. 13, and closes Feb. 21, so that would be a great time to get your office's Oscars pool finalized. 
The 89th Academy Awards
This year's Oscars will air live on ABC Sunday, Feb. 26, and will be hosted by Jimmy Kimmel. Although an official time has yet to be announced, it's safe to assume the show will begin at the same time it did in 2016 and 2015, at 8:30 p.m. Eastern. 
Mic has ongoing Oscars coverage. Please follow our main Oscars hub here.