Sen. Jeff Sessions says he will "respect" 'Roe v. Wade' during confirmation hearings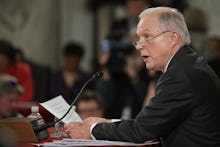 In what the Wall Street Journal identified as the first "Democratic opportunity" to question Sen. Jeff Sessions during his attorney general confirmation hearings on Tuesday, Sen. Dianne Feinstein (D-Calif.) asked about abortion.
Feinstein specifically challenged Sessions to answer for President-elect Donald Trump's position on Roe v. Wade, the Supreme Court ruling that he said he would seek to overturn.
Feinstein alluded to Trump's later statements that the Supreme Court's landmark decision on same-sex marriage is "settled," while the 1973 ruling making abortion legal remains vulnerable. 
"You have referred to Roe v. Wade as one of the 'worst, colossally erroneous Supreme Court decisions of all time.' Is that still your view?" Feinstein asked.
Sessions responded, "It is. I believe it violated the Constitution and really attempted to set policy and not follow law. It is the law of the land. It has been so established and settled for quite a long time. And it deserves respect and I would respect it and follow it."
Sessions' affirmation that he would abide by same-sex marriage and abortion rulings represented an attempt to separate his personal beliefs from the responsibility he would hold as attorney general. 
The senator has a lengthy record opposing legislation that would increase abortion access and prevent unwanted pregnancy, including bills providing federal funding for abortion, allowing for minors to be transported across state lines to receive the procedure, and increasing access to birth control. 
"Jeff Sessions has long opposed the protections for clinics facing violence, raising deep concerns about whether he will ensure the safety of reproductive health care providers and staff and remain impartial in enforcing the law,"  Planned Parenthood  Federation of America Vice President Dawn Laguens wrote in an emailed statement provided to Mic. 
"What's more, at Planned Parenthood, we see firsthand what it means for people who are forced to travel hundreds of miles for health care, or wait weeks to get an abortion if they can at all."
Laguens said that the kinds of barriers Sessions has voted for in Congress have continually impacted some of the most vulnerable populations in the United States: low-income people, people of color and immigrant populations, to name a few.
"The Judiciary Committee should consider the needs of these individuals and strongly question the fitness of Senator Sessions to serve as America's Attorney General," she wrote.
Jan. 10, 2017, 2:19 p.m. Eastern: This story has been updated.