Prisma Editing App: How to make your photos look like artwork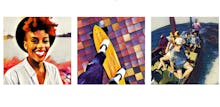 Photo-editing app Prisma made waves in 2016: The app, which features modern art filters and photo effects, earned a spot in Apple's iPhone App of the Year and had a successful launch of its Android app in July. The effects are unique from other apps like Instagram and VSCO Cam, as they are more complex than a color filter.
What is Prisma?
The free app turns photographs and videos into works of art — mimicking the styles of well-known artists like Van Gogh, Munk, Picasso and Levitan — using neural networks and artificial intelligence.
According to the app description:
Prisma transforms your photos into artworks using the styles of famous artists: Munk, Picasso as well as world famous ornaments and patterns. A unique combination of neural networks and artificial intelligence helps you turn memorable moments into timeless art.   
How to use the Prisma app
To use the app, users open the smartphone application and either take a picture using the app or give the application access to the phone's library to upload an image. Then, a series of filters will pop up at the bottom offering different effects. Once an effect is chosen, the app creates the artwork. 
Can the effect's intensity be controlled?
The user has the option to control how much of the effect is used. By swiping left, you can decrease the concentration of the effect and swiping right will increase it. The default concentration when you select a filter is 100%. If it's too extreme, just swipe left.
How to save and share creations
To upload or save the creation, click on the blue icon situated on the bottom right side of the app above the filters. Here, you can save the image to your Camera Roll, share directly to Instagram and Facebook, or share it on Prisma's built-in social feed.