Jared Kushner's businesses: Here are Trump son-in-law's business ventures — and possible conflicts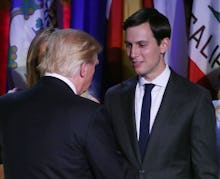 President-elect Donald Trump announced on Monday that he plans to appoint his son-in-law Jared Kushner as a senior adviser in his White House. Aside from possibly violating nepotism laws, there are a number of potential conflict of interests created by business interests of Kushner, who is married to Trump's eldest daughter Ivanka. Here's a look at some of Kushner's business interests and the problems they could pose for the incoming Trump administration:
His loan from an Israeli bank
Kushner's family real estate business, Kushner Companies,  received multiple loans from Bank Hapoalim, the largest bank in Israel, according to the New York Times. The bank is also under investigation by the Justice Department for helping Americans avoid paying taxes. It gets more complicated, though, because Trump has said that he will use Kushner, an Orthodox Jew, to work on U.S. policy toward Israel and the Middle East.
His deal with a Chinese real estate company
The New York Times also reported last week that soon after his father-in-law was elected, Kushner met with a Chinese real estate company to close a deal on a development project in Manhattan. Wu Xiaohui, the chairman of Anbang Insurance Group, apparently asked to meet with Trump. Vox has noted that this relationship could have a real impact on American foreign policy.
His newspaper
This one isn't quite as explosive, but still worth mentioning: Kushner owns a newspaper, the New York Observer. Though CNN recently reported that he is stepping down and transferring his interest in the company to a family trust, it is hard to imagine he won't still have some reach with the conservative media outlet. Generally, politicians owning their own media outlet is frowned upon in free democracy.