Smoking weed at Trump's inauguration? Police might look the other way.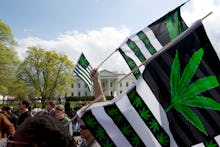 On Donald Trump's Inauguration Day, there's going to be more in the air than factional tension. There'll be plumes of smoke from thousands of joints.
Marijuana activists will be handing out pounds of free bud to draw attention to the legalization movement — and they're prepared to be arrested for it. 
It looks like the local authorities, however, will turn a blind eye to the weed smokers.
This became evident on Tuesday when, according to the Associated Press, D.C. Mayor Muriel Bowser said making marijuana-related arrests at counter-inaugural protests "wouldn't be our first priority."
Local activists from DCMJ, a marijuana advocacy group that helped pass D.C.'s own legalization laws, are planning to hand out pre-rolled joints filled with sticky, high-quality, locally grown pot.
Smoking, vaping or ingesting said weed at the inauguration isn't technically illegal — the city legalized weed by a ballot measure in 2014 — but smoking it at a protest is. Hypothetically, the Metropolitan Police Department could arrest protestors for smoking on the city's public land. At 10 a.m., the marijuana activists will march to the National Mall, where they could be arrested by federal police — the use of marijuana is illegal on federal land.
If the arrests do come, DCMJ cofounder Nikolas Schiller told Mic, the organization is fully prepared. DCMJ wants to force Trump to clarify his stance on marijuana legislation, and in order to do that, it needs to make its point loud and clear.
"It's not just a feel-good, let's-get-high moment — it's an act of civil disobedience," Schiller said. "The Trump administration has unfinished business with cannabis reform."