Morocco, a Muslim-majority country, banned the production and sale of burqas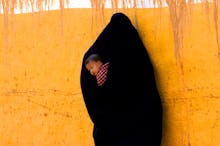 Morocco, a country where 99% of the population identifies as Muslim, just banned the burqa. 
According to local reports, the production, sale and wearing of full face veils is no longer permitted, citing security concerns,  Agence France-Presse reported Tuesday. Le360, a Moroccan news site, reported the new law would take effect later in January. The ban was prompted by reports of "bandits" using burqas to execute crimes, according to the Independent.
"We have taken the step of completely banning the import, manufacture and marketing of this garment in all the cities and towns of the kingdom," a Moroccan senior interior official said, Le360 reported, according to a translation by the Independent.
In Casablanca, Morocco's largest city, "awareness-raising" campaigns are alerting traders of the ban on burqa production and sales, Agence France-Presse reported. In the southern city of Taroudant, law enforcement officials forced traders to stop producing and selling the burqas and to get rid of their stock within 48 hours.
According to Morocco World News, a photo of a written notice of the ban is circulating the internet.
"Following the observations of the authorities, we notice that you sell burqas — so, we are calling on you to get rid of the products of this outfit within 48 hours and to refrain from selling it in the future," the notice reportedly reads.