Bill O'Reilly sexual harassment suit quietly settled by Fox News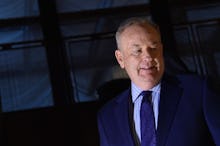 July was a time of great turmoil for Fox News, as anchor Gretchen Carlson filed a lawsuit against CEO Roger Ailes, claiming he'd told her they'd both benefit from entering into a "sexual relationship." Carlson believed she'd been fired from her position at Fox as punishment for refusing Ailes' advances. Two weeks later, Ailes himself resigned.
The tumult apparently allowed Fox News to address another potentially high-profile sexual harassment allegation in a less-public manner.
According to a letter obtained and verified by the New York Times, July also saw Fox News quietly coming to an agreement with Bill O'Reilly, who had been accused of sexually harassing his colleague, correspondent Juliet Huddy. Fox News reportedly paid off Huddy with a "sum in the high six figures" in exchange for her silence and her word that she wouldn't file a suit.
Huddy alleged that in 2011, the host of The O'Reilly Factor would call her repeatedly and often sound as though he were masturbating during the phone calls. Additionally, Huddy said O'Reilly invited her to his Long Island home, took her out to dinner and a show, attempted to kiss her and once answered the door to his hotel room in his underwear after having asked Huddy to return a key there to him.
The letter also alleged that, after Huddy declined the high-powered host's advances, she was blocked from appearing on his show, in addition to other instances of professional retaliation. 
A Fox News spokesperson denied the veracity of the letter, writing in an emailed statement, "Juliet Huddy's letter of intent to sue contained substantial falsehoods which were vehemently denied by Bill O'Reilly."
Meanwhile O'Reilly's lawyer Fredric S. Newman said there was "absolutely no basis" for any such claims leveled against his client.
Still, it's hard to ignore the mounting claims against male Fox News staff which seem to indicate a climate of sexism and harassment at the news station. The result just may be a dwindling number of female employees at the outlet: Anchor Megyn Kelly, for one, recently announced she was ending her 12-year tenure at Fox News for a gig at NBC. 
Though Kelly didn't say why she was leaving her Fox News post, in her memoir Settle for More, Kelly alleged she had also been a victim of Ailes' advances. 
Both Kelly and Huddy seem intent on leaving behind their times at Fox News and moving onto new things — Kelly, a career at NBC News and Huddy, a book she says she's working on.
"Thank you to everyone who has helped make [the] last 20 years the most challenging, but best of my life," Huddy wrote in a goodbye letter she shared on Twitter in September. "And yes, you'll likely see me on TV again soon."
As for O'Reilly? For now you can still catch him behind his desk, in front of the cameras.
Jan. 10, 2017, 5:29 p.m. Eastern: This story has been updated.