'Logan': Hugh Jackman's final film as Wolverine will premiere at the Berlin Film Festival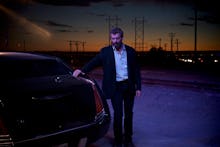 In 2000, 20th Century Fox and Bryan Singer's X-Men not only revitalized comic book adaptations in film, but created a star: Hugh Jackman. Including X-Men, Jackman has appeared as Wolverine in a whopping eight films featuring the popular mutants. Jackman is set to wear the claws for the last time in Logan, which, according to Deadline, will be premiering at the Berlin Film Festival in February. 
The X-Men films in which Jackman appeared as Wolverine (all but Deadpool), have grossed a combined $3.6 billion worldwide, and make up a franchise that trails only the Marvel Cinematic Universe in combined domestic grosses for a comic book series of movies.
Logan comes just over a year after Fox released the breakout hit, Deadpool, which went on to become the highest grossing R-rated film ever, with $783 million worldwide. Following Deapool's success, Fox green-lit an R-rated swan song for Jackman's Wolverine character, and the buzz is through the roof. 
Logan premiered its first trailer in October, and it appears this will be unlike any X-Men (or comic book) film we have seen to date. Logan is directed by James Mangold, who in addition to The Wolverine, had helmed acclaimed films like Walk the Line and 3:10 to Yuma. 
The Berlin Film Festival will run from Feb. 9 - 18. Logan will be released domestically on March 3, 2017. You can watch the trailer below: