Fleg and Boggin: 'League of Legends' Warwick teaser update reveals new characters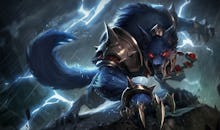 Over the past week, rumblings about the possibility of an update to League of Legends champion Warwick became real, as an animated teaser showcasing the new and improved version of the blood-obsessed wolfman was released by Riot Games. Perhaps even more interesting, though, is the introduction of Fleg and Boggin, two new characters who learn about Warwick's jungling fury the hard way.
These two new characters have piqued the interest of the League of Legends community. Could they be new additions to the story, new Champions or nothing at all?
Fleg and Boggin: New League of Legends characters revealed
The aforementioned teaser video is shown from the first-person perspective of Fleg, as he attempts to escape from Warwick in an industrial steampunk environment. We never actually see Fleg (save for his arms and hands), but we get some good looks at his friend Boggin, an Orc-like creature toting a big gun. 
Given that their names are only revealed in the video's optional subtitles and they're both immediately killed by Warwick, it seems like they'd be pretty weak as new Champions. However, perhaps they are meant to flesh out the story and we will see them again someday. It'd be interesting to find out what exactly they did to rile up Warwick so much.
Mic has reached out to Riot Games for more information about the two new characters and will update with any response.
Fleg and Boggin League of Legends teaser: Watch the video here
If you haven't watched the official Warwick video yet, check it out below for a look at Fleg, Boggin and the wolfman himself.
More gaming news and updates
While you wait for more news on Fleg and Boggin, you might as well check out Mic's gaming guides on how to get started with Pokémon Go data, the latest Overwatch changes, how to become a real estate magnate in GTA Online and the latest info on the new Nintendo Switch console.