The 'Bates Motel' season 5 sneak peek video is super disturbing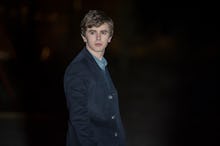 Mother is home! Bates Motel returns to A&E for its fifth and final season Feb. 20, and the network has released a sneak-peek video to allow viewers to "check in" on Norman.
Needless to say, Norman is not doing well after the events of season four's finale. 
(Editor's note: Spoilers for Bates Motel ahead.)
Bates Motel fans will remember the season four finale: It concluded with Norman and his mother, Norma, spending Christmas together. The only problem? It was all in Norman's head. In reality, he killed his mother in a murder-suicide attempt. Mentally unstable, Norman was unable to come to grips with her death. Instead, he believed she was faking being dead in order to avoid her ex-husband, Sheriff Romero. Norman ended up digging up her body after she was buried.
When we last saw her, Norma's body was left on the couch. However, the sneak-peek video reveals she's in a much "cooler" place now — a walk-in freezer, to be exact.
Yes, Norman has frozen his mother's corpse. But that's not the most disturbing part from the sneak peek. As he looks lovingly at her corpse — which is dolled up to look like a princess, crown and all — Norma's voice calls for him from upstairs.
"Norman, dinner!" she yells.
But if Norman thinks his mother is upstairs making dinner for him, how do you explain him looking at her body in the freezer? Norman has always had trouble with blackouts and facing reality, but there is no explaining this. He has officially gone off the deep end — and that means no one is safe come season five. Rihanna better watch out.
Catch the Bates Motel season five premiere when it airs Monday, Feb. 20, on A&E.