7 things you didn't know about 'Lemony Snicket's A Series of Unfortunate Events' movie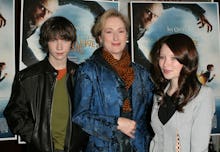 A Series of Unfortunate Events, the children's book series by Lemony Snicket (the fictional alter ego of Daniel Handler), chronicles the adventures of Violet, Klaus, and Sunny Baudelaire, siblings who find themselves orphaned after their parents die in a fire. The children are brought to live with the menacing Count Olaf, a man determined to steal their inheritance and willing to do anything to make that possible. 
The books have been adapted into a new Netflix series, available to stream beginning Jan. 13, and starring Neil Patrick Harris as Count Olaf, Malina Weissman as Violet and Louis Hynes as Klaus. But before embarking on new adventures with the Baudelaire kids, Snicket fans can enjoy a throwback to the big screen adaptation from more than a decade ago. 
The film of the same name was released in December 2004, featuring Jim Carrey, Emily Browning and Liam Aiken in the leads. With a budget of $140 million, the movie drew from the first three books in the series. Despite Snicket's large fan base, the film, written by Robert Gordon, did not perform at the box office. It was outshone by the Harry Potter release that year. 
Check out seven facts you may not have known — or forgot about — from the A Series of Unfortunate Events film.
Jim Carrey was cast because of a pre-teen
Carrey's manager's 11-year-old son Sammy read the series and suggested him for the role. Sammy reportedly said, "Jim should play this character. This is totally up his alley. He's a total maniac. He's out of control." Carrey previously made his mark in Hollywood playing cartoonish men in films like Ace Ventura, Batman Forever, The Mask and How the Grinch Stole Christmas.
Meryl Streep was in it
Wearing some truly spectacular shoulder pads, Streep played Aunt Josephine, a woman who has irrational fears  — a condition that does not mix well with the three adventurous children. This was one of the few roles for which the prolific actress did not win an award. 
Star cameos 
Along with Carrey and Streep, the cast also included Jane Lynch, Helena Bonham Carter, Dustin Hoffman and Gilbert Gottfried. These appearances are uncredited. Adding to the starry lineup was Jude Law, who provided the voiceover narration. 
It won an Oscar
The film was recognized at the 2005 Oscars with best achievement in makeup, which went to to Valli O'Reilly and Bill Corso. It also received nominations in art direction, costume design and music. Despite Carrey's versatile performance as Count Olaf, he was not nominated. 
Sequels were planned 
Jim Carrey wanted to do a sequel, but the opportunity to bring more of the 13-book series to the screen never materialized, probably due to the movie's disappointing box office grosses. The box office totaled less than the film's budget, but counting international box offices it came close.
There's a video game adaptation 
The single-player game, which was released in November 2004, is based on the film, and players take on the roles of Violet, Klaus and Sunny Baudelaire, fighting villains from the story.