"Angel Shots" aimed to help women protect themselves from potentially dangerous dates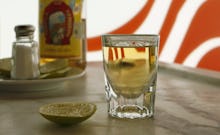 Can a secret menu item save your life? Possibly.
One Florida restaurant is taking bad dates into its own hands. A St. Petersburg eatery called The Iberian Rooster, described as a colonial Portuguese fusion restaurant, has developed the "Angel Shot," an off-menu special created for women to order when they're in need of an escape or safe escort from a potentially dangerous situation.
The Angel Shot isn't actually a drink that will be shaken up, but rather a code to alert the bartender that the woman ordering it needs some help.
A sign posted in the women's restrooms, which has since been seen on multiple Instagram and social media accounts, gives instructions to women who may feel unsafe or uncomfortable in the company of a strange date. 
The Iberian Rooster's Angel Shot menu instructs women to order a neat shot if they want a bartender escort to their vehicle, with ice if they want an Uber or Lyft or with lime if the bartender needs to call the police.
This isn't the first date spot to take steps to offer safety to women. 
The Brickyard, in England, posted a similar sign in the women's restroom in early 2016, to advertise the bar's ability to discreetly remove a potentially dangerous man from their premises. 
And at New York City's Up & Up, a code of decorum forbidding men from approaching women serves to prevent women from feeling unsafe while enjoying their cocktails.
While in an ideal world women would be able to go out for drinks without a high likelihood of being victimized, bars stepping up to protect women and encourage women's safety are a step in the right direction. 
Mic has reached out to The Iberian Rooster for comment.