17 leaders who aren't going to stop fighting for you in 2017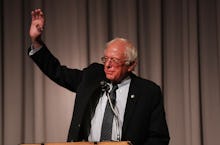 The days following Election Day may have painted a gloomy picture for civil rights activists, as many of them believe that the progress attained in recent years would experience setbacks due to a Republican-controlled Congress and Donald Trump as the 45th president of the United States. 
But 2017 could also be the year leaders will champion the rights of many Americans, especially in a country that remains deeply divided. The following list includes leaders who can bring positive change in the realms of immigration, LGBT rights, criminal justice, women's rights, media and policy. 
1. Bernie Sanders 
Though Sen. Sanders (I-Vt.) was defeated during the Democratic primary elections, he has risen as a prominent figure of the progressive movement. This year, he pledged to work alongside Senate Democratic leaders to join a fight against Trump's draconian policies.  
2. Elizabeth Warren 
During a Senate Banking Committee hearing in September 2016, Sen. Elizabeth Warren (D-Mass.) grilled then-CEO of Wells Fargo John Stumpf in spectacular fashion, after it was discovered that the bank engaged in corporate malfeasance. Her sharp questions unveiled the corruption inside one of America's largest banks, leading Stumpf to resign. 
Now that we have witnessed a slew of cabinet nominations from Wall Street this year, we'll see a "the liberal lioness with sharp claws," as the Boston Globe described Sen. Warren.
3. Linda Sarsour
Linda Sarsour is the executive director of the Arab American Association of New York. The White House in 2011 honored her as a "champion of change" activist who has worked to "shatter stereotypes of Muslim women." She's one of the leaders of the Women's March on Washington, which is expected to be one of the largest rallies that will take place in the nation's capital around Trump's inauguration.  
4. Jorge Ramos 
Univision anchor Jorge Ramos was arguably one of the most prominent voices in opposition to Trump's campaign. While Univision executives sat down with Trump on Jan. 9 to do "outreach to the Latino community," we can expect to see Ramos continue to report on issues that matter to immigrants and their families. "Once you are an immigrant, you never forget that you're one," Ramos once said. 
5. Amy Goodman
Democracy Now! co-anchor Amy Goodman valiantly covered the Standing Rock protests even before mainstream media knew about it. And on Dec. 5, Goodman and her colleague Juan González celebrated 20 years of the independent reporting at Democracy Now!, alongside figures such as Harry Belafonte and Danny DeVito. As Julie Sokolow wrote at the time, "In this age of fake news ... revered journalists and celebrities alike turn to Goodman because they see her as a guardian of truth." 
6. Jose Antonio Vargas 
Award-winning journalist Jose Antonio Vargas became famous for writing publicly about his life as an "undocumented immigrant" in a 2011 piece for The New York Times Magazine. Today, he runs an organization called Define American that explores an intersection of immigration and personal identity. 
7. Glenn Martin
Martin founded an organization called JustLeadershipUSA, which is dedicated to cutting the U.S. correctional population in half by 2030. Now that President Barack Obama has reduced sentences for 1,000 inmates, the case for prison reform is very likely to continue.
8. Laverne Cox 
Not only is Cox famous for her role as Sophia Burset on Orange is the New Black, but also for being a trailblazer in the transgender community.  
9. Van Jones 
The New York Times recently hailed CNN commentator Van Jones as the "star of the 2016 campaign" as he was able to stand up to Trump supporters, while also providing the greatest response to his victory. He believes that "a love army" will conquer Trump. Will you enlist this year?  
10. Corey Booker 
Wednesday, Sen. Corey Booker (D-N.J.) is set to testify against Sen. Jeff Sessions (R-Ala.) at the latter's confirmation hearing, which will be the first time in Senate history that a sitting senator has testified against another sitting senator in a confirmation hearing for a presidential cabinet post, CNN reports. He has worked in the past to restore sections of the Voting Rights Act. So expect to hear more about his work in coming years.  
11. Ta-Nehisi Coates 
Coates is famous for his acclaimed piece "The Case for Reparations" in the Atlantic, in which he demanded the U.S. government materially compensate African-Americans for centuries of socioeconomic and physical violence. Don't be surprised if he pens more articles about civil rights advocacy during the Trump era. 
12. Sonia Sotomayor 
In November 2016, Supreme Court Justice Sonia Sotomayor said to an audience at Capitol Hill that we "can't afford to despair" following Trump's victory. "Every person has an obligation both to continue being heard and to continue doing the right thing." As the country still awaits the confirmation of a new Justice, she pledges to "continue doing what I think is the right thing." 
13. Colin Kaepernick 
49ers quarterback Colin Kaepernick donated $50,000 to a Standing Rock Sioux Reservation health care clinic in December 2016. Need we say more? 
14. John Oliver
Just two weeks before Election Day it was reported that the three top television nightly news broadcasts — CBS Evening News, NBC Nightly News and ABC's World News Tonight — had devoted a total of just 32 minutes to coverage of policy issues in 2016. Meanwhile, John Oliver's Last Week Tonight, a show hosted by a British comedian, has emerged as a leading critic of policy politics and media in America. We're sure Trump will provide plenty of material to Oliver this year.
15. Alicia Garza 
Garza is one of the founders of Black Lives Matter. She and the other BLM founders were recently crowned some of the "Women of the Year" by Glamour Magazine, and for good reason: Garza and her co-founders have shown no sign of wavering in their commitment toward demanding racial justice in America.
16. Cesar Vargas and Erika Andiola
During his confirmation hearing, Sen. Sessions called the Deferred Action for Childhood Arrivals program "very questionable, in my opinion, constitutionally," according to the Washington Examiner. Though uncertainty and fear loom large, DREAMers — or people who came to the United States as children and without documentation — alongside their leaders Cesar Vargas and Erika Andiola will keep the good fight this year. 
17. Kamala Harris 
Former California Attorney General Kamala Harris was recently sworn in as the first Indian-American senator for the Golden State. According to the Huffington Post, she could become the first woman president in 2020, while the New York Times called her a "top cop in the era of Black Lives Matter."