The 10 definitive looks that defined Michelle Obama's first lady style legacy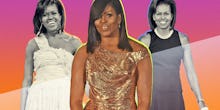 There's never been anyone like her. 
For the past eight years that first lady Michelle Obama or, as President Barack Obama has called her, Michelle LaVaughn Robinson, girl from the South Side, has been in the White House, she has had an undeniable effect on fashion. 
She was the woman who fought against critics for her right to bare her arms. She was the woman who wore young, lesser-known designers and designers of color throughout her time at the White House in order to shine a light on their work. She was the one who used fashion diplomatically at state dinners, often opting for designers with roots in the country being honored. 
As a celebration of her style while in the White House and her effect on fashion, we've rounded up 10 of her most iconic looks that defined her time in the political spotlight, from 2008 until 2016. 
2008: Making herself known in Maria Pinto 
Did this photo also make you feel 3,000 years old? Good. 
Obama arrived at the Democratic National Convention in 2008 in a ladylike teal blue dress, with three-quarter sleeves and a pendant at the top designed by Maria Pinto. It was simple and bright. It felt young and unstuffy. 
Although the Michelle Obama we see here seems far more sartorially reserved than the Obama we know today, this was her offering a glimpse of some of the trends she'd continue to love through her time as first lady, like a bold color choice and a flattering, modest silhouette.
2008: Celebrating Obama's victory in Narciso Rodriguez
Seems like just yesterday. Here is Michelle Obama in Chicago on election night 2008. Her husband had just been elected president and the new first family was introduced in matching red and black. 
Although the dress, designed by Narciso Rodriguez, was flattering with its cinched waist, the New York Times reported that it was incredibly divisive among Obama fans..
"I don't know what was worse, that stupid criss-cross band around the middle or that black sort of border coming up from the hem," one woman told the Times. Another had the audacity to compare it to a lava lamp. 
But, in the same spirit of her convention dress, it showed off some of Obama's style rules that she still abides by today: A flattering silhouette, a shorter length — oh and it's actually sleeveless under that cardigan. 
2009: Making history in Jason Wu
This was a defining fashion moment for Michelle Obama, not only because the dress was great, but because it was designed by Jason Wu, who was only 26-years-old and born in Taiwan. 
With this look, she started her legacy of raising the profiles of young designers and designers of color, and looking gorgeous while doing so. 
If you doubt the impact of this dress — even a little bit — do remember that it's currently on display at the Smithsonian Museum of American History. 
2009: Baring arms in Michael Kors for the official portrait
For her first official White House portrait, Obama chose a chic and simple Michael Kors dress and a double strand of large pearls, which were a favorite of hers at the time. 
Though you may pass this look off as being quite simple now, what wasn't simple at all was that Obama was daring to bare her arms. Back in 2009, it caused quite an uproar. 
"Most of the complaints centered on the dress conveying a sense of informality on a serious occasion," style reporter Wendy Donahue told ABC News at the time. "She's kind of faced some criticism for that in the past where people have said maybe [her clothing is] distracting from the central point, from what is going on."
But no matter what people thought, the sleeveless look became one of Obama's style signatures. And with arms like that, how can you blame her?
2009: Wearing J.Crew to meet a prime minister's wife 
Just a few months into her time as first lady, and Michelle Obama was making her mark on the fashion world. 
While in London to meet with Sarah Brown, the wife of British prime minister Gordon Brown, she wore almost head-to-toe J.Crew, with a sparkly J.Crew sweater and a sea foam green J.Crew skirt, both of which almost immediately sold out online. 
This would be one of her first major times that she wore a surprisingly affordable and accessible brand in such a distinguished setting, but certainly not the last. 
2012: Making history (again) in pink at the DNC 
Michelle Obama arrived looking effortlessly like herself during the 2012 Democratic National Convention in Charlotte, North Carolina.
She arrived in a sleeveless shift dress with the slightly cinched waist, higher neckline, sensible pumps and charming colors. Everything about it screamed Michelle, from the brand Tracy Reese, a black female designer, to the fact that she chose to wear J.Crew shoes (which we're sure experienced the Michelle Obama effect too). 
2015: Looking like Hollywood glamour at the state dinner with China 
What a difference a few years makes. By 2015, Obama was regularly presenting herself not just as a first lady, but a celebrity, wearing red carpet-worthy gowns and statement jewelry. No dress really remains a testament to this more obviously than the off-the-shoulder Vera Wang gown Obama wore at the state dinner with China in 2015, which she paired with long green earrings. 
She looked like movie star. 
The dress also further enforces Obama's legacy as a whole, since she decided to wear Vera Wang, who's parents hailed from China, for a state dinner honoring China's president and first lady of China. 
It was all very fitting, diplomatic and well, yeah, quintessentially Michelle. 
2016: Being a burst of optimism at the final State of the Union address
At President Obama's final State of the Union address in 2016, in a sea of dark suits and blacks and deep blues, there rose Michelle, in a marigold sleeveless (of course) dress. 
Immediately, it was a huge hit with viewers and within about 20 minutes of Obama's spotting, the Narciso Rodriguez dress (a designer of color, yet again) totally sold out. 
In a town where conservative colors like black and blue and white and red reign supreme and during a time when the year's election was just beginning to boil over, Obama was a necessary burst of optimistic tangerine. 
2016: Choosing Givenchy glam for her last White House Correspondents Dinner 
Oh, no biggie, just our first lady Michelle Obama at the White House Correspondents Dinner in a custom bedazzled Givenchy dress complete with a mesh overlay that was covered in little crystals as well.
Although this was a bit of a surprise for Obama, who had never really played with sheer clothing, it worked because of her increased interest in 2016 for wearing dresses that are a bit riskier in the last few months in the White House. 
2016: Shining in Versace at her final state dinner 
We, as a country, didn't even deserve this, and yet here is Michelle Obama at her last state dinner in a goddamn rose gold chainmail Versace dress. Look at it. Just look at it. 
If anyone's looking to redesign the Statue of Liberty, we ask that they revert their eyes to the image above. 
With her days in the White House now ticking away, we can't help but think that this Versace dress is a sign of things to come. When she's not first lady anymore, she'll have more freedom in terms of what she can wear, and even who she can wear, and that's pretty exciting. 
Even when she's out of the White House, we expect her style legacy to live on, and for people to continue to pay attention to what she wears as well. All we have to say now is thank you, Michelle, for every one of these looks, and everything you've done.