Taraji P. Henson has a perfect response to Hollywood thinking black women can't open films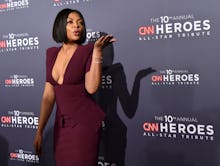 Don't try to tell Taraji P. Henson that movies about black women can't make money. She's not gonna hear it anymore.
The actress, who has spoken in the past of being told stories about black characters aren't strong financial bets, celebrated Hidden Figures' win at the weekend box office publicly on Instagram. "I have been told my entire career, 'Black women can't open films domestically or internationally,'" Henson wrote in her post. "Well, anything is possible."
But it was on the set of Empire, in a moment captured on video and published by TMZ, that Henson really let loose.
"Hollywood says black women can't open a film," she says in the clip. "Kiss my ass." She's quickly met with shouts and applause from those on set.
Henson has plenty of reason to celebrate: Not only is Hidden Figures a box office smash, it also increasingly looks like a major Oscar player. Earlier Tuesday, the film earned a nomination from the Producers Guild of America — considered a major precursor nomination when considering which movies will get best picture nods at the Oscars.
Looking at how successful Hidden Figures is already, despite an exclusive Hollywood system that won't see the obvious money more inclusive films make, "kiss my ass" feels like just the right, cathartic response.