Vivienne Westwood brings diamond-encrusted penises to the runway at London Fashion Week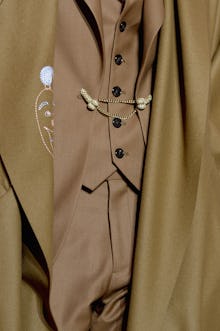 Designer Vivienne Westwood knows exactly how to get our attention. 
At her London Fashion Week Men's show on Monday, models walked the runway in baggy, playful sweaters and suits, with bursts of color and British plaid. Some models walked with what looked like marker all over there face, while others walked with paper crowns. 
But one model — perhaps the luckiest model — got to walk the runway in a very large brown suit that made him look straight out of Lord of the Rings, except it came with a very, ahem, attention-grabbing accessory. 
Now you have to squint. Hard. 
That's right, y'all. Those are diamond-encrusted penises holding that jacket together, with a neat gold chain. 
Dickouture, if you will. 
And if you're thinking, "Well, my god, no one would ever wear that in real life," then take a look-see at actor RJ Mitte of Breaking Bad fame, who sat front row for the Westwood show, proudly displaying his own diamond-encrusted members. 
Yes, we can zoom in. 
There we go.
Now of course, Westwood is the type of designer where this isn't even a little bit surprising. After all, last year at Men's Fashion Week in Milan, she had far more anatomically correct penises hanging around the necks of her male models. 
We're actually still waiting on Rihanna to wear these. 
Westwood's latest blinged-out dick accessory is really just a continuation of fashion's recent obsession with the penis. In January 2015, Rick Owens had his male models wear garments with either holes directly over the genitals or dresses cut so high that their peckers played peek-a-boo. And in 2016, Raf Simons designed a jacket that had a picture of an erect penis printed on the back. 
There's really no telling if this is one of those trends that will eventually trickle down to places like H&M and Zara but after the year we just had, we wouldn't doubt it.