West Virginia teacher suspended for anti-Muslim and racist tweets about "Obama's children"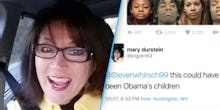 A high school social studies teacher at Huntington High School in West Virginia has been suspended with pay due to numerous racist tweets posted over the course of a year.
Under the username "pigpen63," Mary Durstein recently responded to a tweet referring to four African-Americans arrested for brutally torturing a white teen with disabilities in Chicago. In her tweet, posted on Jan. 5, Durstein said that the suspects "could have been Obama's children."
Durstein has also sent anti-Muslim tweets and retweeted posts that supported the deportation of Muslims. She also called Muslims "the enemy."
"#cashinIn #WakeUpAmerica #viewcrew Who cares if we offend Muslims at least they keep their heads on tact," Durstein tweeted on July 18, 2015. "They're the enemy."
Cabell County Schools, the school district of Huntington High, acted swiftly when they received screenshots of Durstein's tweets from students and colleagues.
"The tweets that you have seen — those are things that we do not adhere to," Cabell County Superintendent Bill Smith told the Herald-Dispatch. "We believe that all children are welcome here —all adults as well — in Cabell County schools. We want to make sure that is clear to our students and clear to the employees that work for us."
According to the Herald-Dispatch, Durstein deleted her Twitter account at the request of Cabell County administrators.
Smith said while teachers have the right to post on social media, they need to be aware of their positions as educators and the type of examples they should be setting. He also said their expectations of a teacher's social media is the same as their expectations in the classroom.
"We expect the same conduct on social media that we do in the classroom," Smith added. "We don't want to deny teachers the access they can have to the internet or Facebook and all the other stuff they want to have, but they need to be cognizant of who they are speaking to. And when what they say interferes with the educational process, it becomes a problem."
Jedd Flowers, director of communications for Cabell County Schools, said Durstein will be meeting with the superintendent to discuss the incident. The date for the meeting has not been set. Durstein also requested to have legal representation at her meeting. 
Flowers also praised students for voicing their concerns and alerting administrations about Durstein's tweets. 
"(The students) did the right thing by reaching out to us and letting us know," Flowers told the Herald-Dispatch. "We want the message to our students to be that all kinds are welcome at Cabell County Schools. We embrace diversity. Inclusion is essential to everything that we do."