'Sims 4' Vampires Game Pack Release Date: Update adds new abilities and costume options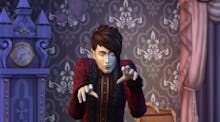 If you thought your escapades in The Sims 4 have been a little too mundane up until now, strap in. On Jan. 24, a new vampire-themed expansion pack comes out that looks delightfully weird. Here's everything you need to know.
Sims 4 Vampires Game Pack: Update details
If you decide to get the vampire-themed update pack, you'll have a whole host of new abilities at your disposal, according to an official blog post that explains the expansion. For example, you'll be able to turn other Sims into vampires and transform into a bat. 
But, as you know, with great power comes great responsibility. If you turn a Sim into a vampire, you'll have to keep them out of the sun and make sure they're getting enough Plasma  — a nicer way of saying "blood of the innocent," apparently.
Of course, there's all sorts of new clothing and character customization options, as well as a new world, Forgotten Hollow.
Also, vampires have a delightfully creepy walk when they're about to bite someone's neck that looks like this:
The full trailer is embedded below.
More video game news and updates
For more video game news, check out the rest of what Mic has to offer. Here's a collection of Valentine's Day-themed voice lines uncovered in the latest Overwatch update, a possible leaked lineup of Nintendo Switch launch games, a Pokémon Sun and Moon team builder guide and a guide to hacking your NES Classic.