Anti-vaxxer says Donald Trump asked him to lead a commission on vaccine safety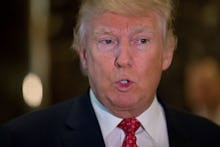 Robert F. Kennedy Jr., son of Bobby Kennedy, said President-elect Donald Trump asked him to lead a commission on vaccine safety — a move that could be troubling, to say the least, for the medical community.
Kennedy, a prominent anti-vaxxer, says he agreed to lead the commission, which, according to Kennedy, will seek to ensure there is "scientific integrity in the vaccine process for efficacy and safety effects."
The Trump transition team, for their part, denied Kennedy's claim, telling CNN that he was not asked to chair a commission on vaccine safety.
"The President-elect enjoyed his discussion with Robert Kennedy Jr. on a range of issues and appreciates his thoughts and ideas. The President-elect is exploring the possibility of forming a commission on Autism, which affects so many families; however no decisions have been made at this time,"  Trump spokeswoman Hope Hicks told CNN in statement. "The President-elect looks forward to continuing the discussion about all aspects of Autism with many groups and individuals."
However even after the Trump transition team's denial, Kennedy said he will leave an environmental group he works for in order to head Trump's alleged vaccine commission, Politico Pro reported. 
Kennedy believes vaccines have led to a rise in autism, a claim that's been debunked by doctors and scientists. 
Trump has also raised concerns about vaccines and their health impacts. In 2014, he tweeted about a spurious link between vaccines and autism.
"Healthy young child goes to doctor, gets pumped with massive shot of many vaccines, doesn't feel good and changes - AUTISM," Trump tweeted in 2014. "Many such cases!"
And at a debate in September, Trump also brought up the vaccine and autism link.
"We've had so many instances ... a child went to have the vaccine, got very, very sick and now is autistic," Trump said at that debate.
Kennedy told reporters Tuesday that Trump "has some doubts about the current vaccine policies."
"We ought to be reading the science and we ought to be debating the science," Kennedy said. "And that everybody ought to be able to be assured that the vaccines that we have — he's very pro-vaccine, as am I — but they're as safe as they possibly can be."
Jan. 13, 2017 at 8:03 p.m.: This post has been updated.