'The Walking Dead' releases detailed season 7B synopsis and photos, hell freezes over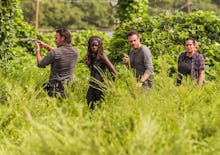 Was the first half of The Walking Dead's seventh season bad? Perhaps. (Yes, yes it was). But there's some hope AMC's post-apocalyptic, cliffhanger-obsessed zombie series can bounce back in season seven's back half by actually moving the plot forward. 
In other words, instead of being emasculated by Negan over and over again, maybe Rick will actually fight back. 
That's what we presume Rick and the group will do once the series returns from hiatus — especially when you consider that's exactly what the gang ends up doing in the comics — but it's still a welcome sign to have these suspicions confirmed by AMC. The network has released an uncharacteristically detailed plot description for season 7B, along with a handful of new photos. 
The surprisingly lengthy synopsis reads: 
The first half of Season 7 saw Rick (Andrew Lincoln) and the group broken by Negan (Jeffrey Dean Morgan), forced to fall under his will and brutally convinced to live under his rules. The second half of the season will focus on preparing for war and gathering the supplies and numbers to take Negan down once and for all.
This is, to be as cautiously optimistic as possible, somewhat promising, even if it reads a bit cheesy at times. We'd like to see "incredible places" and moments that are "nothing short of remarkable" — it's been a while. And for the love of God, please, no more cliffhangers. 
Check out the accompanying season 7B photos from AMC below. 
The Walking Dead season seven returns to AMC on Feb. 12.  
Mic has ongoing coverage of The Walking Dead. You can follow our main Walking Dead hub here.