Jeff Sessions grilled on definition of sexual assault at AG confirmation hearing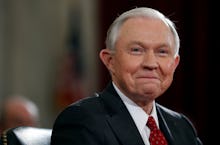 In one of the most jaw-dropping moments of his attorney general confirmation hearings thus far, Sen. Jeff Sessions affirmed his belief that yes, grabbing a woman by the genitals is, in fact, sexual assault.
Sen. Pat Leahy (D-Vt.), asked Sessions the question, referring to President-elect Donald Trump's comments from 2005 that he could grab women "by the pussy" because he was famous, and could therefore do anything he liked to women.
"Is grabbing a woman by her genitals without consent sexual assault?" Leahy asked Sessions.
"Clearly it would be," Sessions said.
After the video of Trump bragging about grabbing women by the pussy emerged in October, Sessions initially said Trump's actions weren't sexual assault, before backtracking soon after.
But Sessions said he couldn't necessarily characterize the content of Trump's comments as sexual assault because he wasn't sure whether the women Trump said he grabbed by the pussy gave their consent.
Sessions has faced criticism over his response to Trump's comments. On Monday, a group of sexual assault survivors brought a printed definition of sexual assault to Sessions' office.