What happened to oldest son Matt Brown on 'Alaskan Bush People'?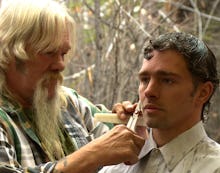 Alaskan Bush People returned to Discovery Channel earlier this month for its sixth season premiere. The series not only brought the Brown family back to the screen, it also reunited Billy and Ami's eldest son, Matt, with the rest of the family.
For those just tuning into the reality series, Matt previously admitted to his family — in season five — that he had been going into town to drink. While that might not sound like a big deal to most, the Brown family doesn't drink, a decision they made after seeing alcohol ruin the lives of others. It was a hard thing for Matt to admit to, which is why he opened up to younger brother Gabe first. 
"I'm telling you first because we've always been real tight," Matt told Gabe in season five, episode 10. "I have a secret I've been keeping from the family ... I go to town and I get drunk. I'm not a guy that I want to be, and I get really mad at myself because of that."
Though afraid of hurting the family, Matt knew that he had to come clean to his parents. He ultimately had a private conversation with them, away from the Discovery Channel cameras, and left the family to seek counseling. According to People, Brown entered a 35-day inpatient program.
"I learned a lot about myself in those 35 days," he told the outlet. "I've turned my weakness into a strength."
Alaskan Bush People fans got to witness the family's happy reunion in the Jan. 4 season six premiere, but Matt wasn't exactly the same. After so much time away from the Bush, he felt like he had to reconnect with the wilderness and find himself. While most of the family prepared to welcome a cow to Browntown, Matt set out on his own to hunt deer and prove to his family that they can rely on him again. However, he didn't return home by the end of episode one. Determined not to go back empty-handed, Matt stayed out in the woods during a dangerous storm.
Alaskan Bush People airs on Discovery Channel Wednesdays at 9 p.m. Eastern.