Obama's Farewell Address: How long will the president's final speech last?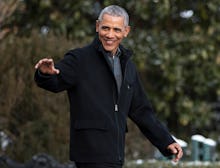 President Barack Obama will give his farewell address to the American people Tuesday at 9 p.m. Eastern from McCormick Place in Chicago. But how long should viewers expect the speech to last? 
How much time have networks allotted? 
Many of the major networks will air the speech, including NBC, ABC, CBS and Fox. 
ABC's Tuesday night schedule has the address listed as a 30-minute program, as does NBC's. Fox has it listed as a 25-minute program. CSPAN has the program listed as an hour, and CBSN will preview the speech starting at 7 p.m.  
What will Obama talk about?
As the Chicago Tribune reported, Valerie Jarrett, one of Obama's senior advisers, told reporters, "The major focus on the speech isn't going to be reflecting back on how far we've come over the last eight years, but really looking forward and how we take the accomplishments, many [of which] through the hard work and grit of the American people came to fruition, and build on that going forward."