3 huge holes in the plan to "completely isolate" Donald Trump from his business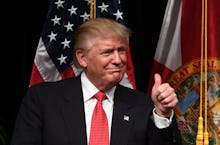 Americans finally have a clearer picture of President-elect Donald Trump's plan to avoid the perception that he will profit from the presidency, thanks to Wednesday's press conference at Trump Tower in New York.
Trump took questions from reporters for about 25 minutes before introducing attorney Sheri Dillon of Washington, D.C., firm Morgan Lewis to discuss Trump's business arrangements.
The TL;DR? Trump and Dillon insisted the president-elect planned to go above and beyond what is required by law as part of a plan to "completely isolate him from the management" of the Trump Organization.
They said Trump will stop managing his business, but will not divest from (aka sell) his many conflict-creating assets. Instead, his assets and businesses will be placed in a trust to be managed by his adult children Eric and Donald Trump Jr. and supervised by an independent ethics officer. 
"President-elect Trump should not be expected to destroy the company he has built," Dillon said. "This plan offers a suitable alternative to address the concerns of the American people, and selling the entire Trump Organization isn't even feasible."
The Trump Organization plans to create a position of "chief compliance officer," which will oversee new deals and help vet them for potential conflicts.
Dillon also stated that the emoluments clause of the Constitution (preventing presidents from accepting gifts from foreign governments) does not apply to fair-value transactions like diplomats paying for a Trump hotel room — a view shared by only a minority of constitutional lawyers consulted by Mic on the issue. But Dillon went on to announces that the profits from any such transactions will be donated to the United States Treasury. 
While these steps are undeniably in the right direction, they still leave holes.
Big ones.
First of all, the public can't truly know if all potential conflicts have been addressed unless the president-elect releases his tax returns.
But that's not all. Here are three other problems that Trump's plan to "isolate" himself from his businesses leaves out — and why Trump will almost certainly continue to profit from being in office.
1. The plan doesn't address nepotism — and a not-blind trust is a superficial gesture
By leaving Trump's sons in charge of the businesses, the newly announced plan "is an invitation to scandal and corruption," former White House ethics adviser Norman Eisen told the New York Times. "Foreign money is going to flood through those loopholes."
Although Dillon said "the president-elect will have no role in deciding whether the Trump Organization engages in any new deal and he will only know of a deal if he reads it in the paper or sees it on TV," she didn't address the matter of existing deals.
Nor the fact that Trump will clearly have opportunities to talk to his sons about whatever he wants — without the public knowing.
Another concern that Dillon didn't address is how Trump will comply with existing anti-nepotism laws, prompted by the announcement that his son-in-law Jared Kushner would be receiving a senior White House post.
Kushner has perceived conflicts of interest of his own, which include outstanding negotiations with a massive and secretive Chinese bank.
There's little disagreement that anti-nepotism laws apply to the president, although previous precedents put Kushner in a legal gray area. 
After all, former President Jimmy Carter famously wouldn't let his own son intern in his office. Appointing family members to posts has usually ended disastrously and the laws themselves may have even been directly inspired by presidential behavior, after former President John F. Kennedy successfully appointed his brother Robert as attorney general. 
But these are blood relatives, not a son-in-law: hence the gray area.
2. Hotel stays aren't the only kind of foreign emolument to worry about: There's also the matter of Trump's debts
During the press conference, neither Dillon nor Trump addressed his companies' outstanding debts — which ethics experts agree could compromise Trump's presidency and make him susceptible to influence.
Trump's debts are far more widespread than previously realized. 
Most recently, a Wall Street Journal investigation found that Trump has far more creditors than previously thought, at least 150.
Many are American banks — but some are state-owned and foreign. Scholars argue that any change to the terms of a loan could still constitute a gift.
Beyond the emoluments issue, ethics watchdogs have argued that Trump will have a hard time selling himself as an effective regulator of Wall Street banks while also owing them tens or even hundreds of millions of dollars.
3. If Trump still owns his properties, he's still profiting off them
Ethics experts are skeptical that just because Trump will no longer be managing his businesses, all of his perceived conflicts are now addressed. 
"That doesn't solve any of the problems," Richard Painter, ethics counsel to President George W. Bush, told Bloomberg. "If he owns it, he has conflicts of interest."
Trump's critics argue that ownership is more important than management: Trump doesn't need to be "focused" on the business or "making new deals" for him to reap profits he wouldn't have seen as a private citizen.
In fact, you can make a plausible argument that Trump has already profited off the presidency immensely: Politico reported the Trump Organization is seeing swelling demand for everything from Trump condominiums to Trump ties. 
And whether or not Trump was involved in the decision, it's notable that the Trump International Hotel in Washington, D.C., has raised the prices at its cocktail bar multiple times since the election. 
One reason ethicists have been obsessed with the idea of a blind trust is that children are likely to be biased in favor of decisions that will benefit their parents — and vice versa.
So — though it appeared to be a joke — Trump's quip that he would tell his sons they're "fired" if they do a bad job is meaningful.
It shows just how superficial the idea of the trust and the "complete separation" of Trump from his company really is.
A spokeswoman for the Trump transition team didn't immediately respond to request for comment.