Did the Holocaust happen? Google's top search results still say it's a hoax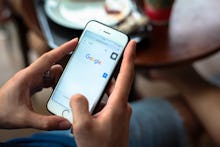 Google promised to fix its Nazi problem. Weeks later, nothing has changed.
In December, when you searched "Did the Holocaust happen" or "Is the Holocaust real," Google's top results — the links deemed most relevant — told you the systematic murder of 6 million Jews was a hoax.
The featured results included "Top 10 reasons why the holocaust didn't happen" on the neo-Nazi site Stormfront and "Holocaust Against Jews is a Total Lie — Proof" on conspiracy site NoDisinfo. 
The Holocaust is not up for debate. Still, Google initially told Mic it had no interest in altering the results — no matter how truthful or harmful they were.
"A site's ranking in search results is determined by computer algorithms using hundreds of factors to calculate a page's relevance to a given query," a spokesperson explained. "We do not remove content from our search results, except in very limited cases such as illegal content, malware and violations of our webmaster guidelines."
After a furor on social media, however, Google reportedly tweaked those results pages. On Dec. 25, Digital Trends reported that Google had altered its algorithm in an effort to push the anti-Semitic search results down the page. Digital Trends noted that the Nazi links "only moved down a few spots in search rankings" but were no longer the leading answers. On Dec. 27, Mashable reported that when it searched for "did the Holocaust happen," the Stormfront result was the eighth option. 
In the past two weeks, something changed. The neo-Nazi sites denying the existence of the Holocaust have now returned to their top position. 
When Mic searched for both "did the Holocaust happen" and "is the Holocaust real" on Jan. 10, the Holocaust denial websites were No. 1. 
Try it for yourself. Search "did the Holocaust happen" or "is the Holocaust real" in Incognito mode to remove customized results based on your browsing habits.
Mic has reached out to Google to learn why the links are back to their leading spots in such a short period of time. We have also reached out to the Anti-Defamation League and the Coalition Against Hate for comments on Google's responsibility to guard against hateful content on its search results page.
Here's how Google's top-results page works: A service called "featured snippets" extracts the best answer to common questions and highlights them on the search results page. As Google's support page notes, "We are always working to improve our ability to detect the most useful snippet, so the results you see may change over time."
A Google spokesperson told Digital Trends in December that it "recently made improvements to our algorithm that will help surface more high quality, credible content on the web. We'll continue to change our algorithms over time in order to tackle these challenges."
Google is a tech company, not a media outlet, but users trust the search engine to return accurate information, not false, hateful content highlighted by algorithms that can't discriminate against anti-Semitic lies. When conspiracy theory outranks truth, that isn't just irresponsible — it's normalizing hate.