Obama Final Address Livestream: Watch the president's last speech live online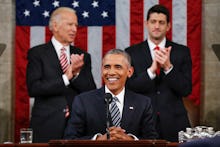 President Barack Obama will give his farewell address tonight at 9 p.m. Eastern from his hometown of Chicago. Most of the major networks and news stations will air the speech, but you can also watch a livestream of the event via the White House's website. 
Presidential address livestream 
Whitehouse.gov will host the official livestream of the event. You can also see his remarks on the official White House Facebook page. 
A new perspective
Obama's will be the first presidential address to be "broadcasted live in 360-degree video," according to the Daily Beast. VRScout, a virtual-reality media corporation based in Los Angeles, will be on-hand at the event in order to broadcast the speech live via this innovative technology. You can watch the 360-degree version of Obama's farewell speech here.