Top intel officials say Russia claims it has compromising info on Donald Trump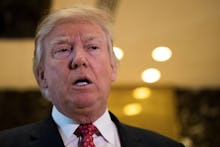 Intelligence officials presented President Barack Obama and President-elect Donald Trump with evidence alleging that the Russian government claims it has obtained "compromising personal and financial information about Mr. Trump," CNN reported Tuesday.
The information was first revealed to Obama and Trump during a private briefing last week on an alleged Russian intelligence operation to throw the Nov. 8 presidential election against Republican Trump's Democratic competitor, Hillary Clinton. U.S. intelligence agencies say Russian President Vladimir Putin was personally involved in directing two cyberattacks against the Democratic National Committee and Clinton's campaign, embarrassing the Democratic Party during a tight election between two widely disliked candidates.
While the nature of the information the Russian government says it has on Trump is not known, the two-page synopsis on the allegations "also included allegations that there was a continuing exchange of information during the campaign between Trump surrogates and intermediaries for the Russian government," CNN reported.
Trump struck an oddly pro-Russian and pro-Putin tone during his campaign, gleefully citing leaked information from the cyberattacks to attack Clinton and repeatedly praising Putin as a strong and effective leader. At the same time, many rank-and-file Republicans have grown more approving of the Russian government.
Since his victory in the election, Trump has continued to compliment Putin despite growing unease even among senior members of his own party like Arizona Sen. John McCain and South Carolina Sen. Lindsey Graham. His pick for secretary of state, Exxon Mobil chief executive Rex Tillerson, has extensive business ties to Russia and Putin reportedly considers him a personal friend.
Jan. 10, 2017, 6:04 p.m.: This story has been updated.