Michael Cohen, Trump's lawyer, emphatically denies claims in salacious circulated report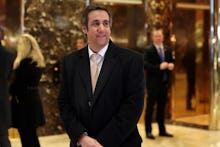 Donald Trump's lawyer says a salacious intelligence dossier accusing the president-elect of receiving intelligence on his political rivals and engaging in "sexual perversion" including hiring prostitutes to perform "golden showers" in his presence is nothing more than "fake news."
"Somebody is having a lot of fun at your expense," Michael Cohen, special counsel to Trump, laughingly told Mic in a phone interview on Tuesday night.
"It's so ridiculous on so many levels. Clearly the person who created this did so from their imagination or did so hoping the liberal media would run with this fake story for whatever rationale they might have."
Cohen issued the emphatic blanket denial after CNN reported the Russian government is claiming to have gathered "compromising personal and financial information" about the incoming president.
"It's absolutely silly," Cohen said of the dossier. 
"At some point in time, this fake news nonsense needs to stop. We are talking about the president-elect of the United States of America, and if we want to portray an image of strength and intelligence throughout the world, we need to start acting intelligent," he said.
Cohen, one of Trump's closest longtime associates and a diehard defender of his boss, also scoffed at a reference in the same document which claimed he himself "allegedly met with NGO officials who are part of the Kremlin for some hacking scheme."
The Trump loyalist said he was in Los Angeles celebrating his 50th birthday with his wife and son during the late summer timeframe when the document claimed he was supposedly hobnobbing with the Russians at a secret meeting overseas.
"I've never been to Prague," Cohen told Mic, later going on to make the same assertion in a tweet accompanied by a photo of a passport:
"It all reads like a John le Carré novel," Cohen sneered.
Cohen went on to say that he "was told that this is coming out of a dossier that the Clinton campaign had put together on Mr. Trump, [his] children, [his son-in-law] Jared [Kushner], myself and others who are close to him to be used during the campaign, if necessary."
If that was the case, he said, "I would ask for my money back, because there's not a shred of accuracy to anything disclosed in their report."
A Clinton spokesman could not immediately be reached for comment.
Trump is scheduled to hold a long-awaited news conference in Manhattan on Wednesday morning.
8:44 p.m.: This story has been updated.