Trump golden shower jokes are going viral on Twitter in wake of shocking unverified report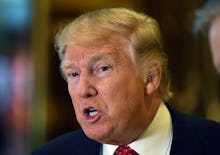 Just about everyone on Twitter is talking about a 35-page dossier allegedly compiled by a former intelligence agent. It contains incredible new allegations against Donald Trump — including years of collusion with the Russian government and a bombshell story involving prostitutes, a bed the Obamas slept in and a "golden shower" show. (What is a golden shower? Read this.)
The urination story in the doc is a doozy: Trump allegedly hired sex workers to defile a bed in a presidential suite at Moscow's Ritz Carlton Hotel where the Obamas — "whom he hated" — had slept. To desecrate the space, the documents claim, Trump made the sex workers perform a "'golden showers' (urination) show" on the mattress in front of him.
Trump sure was pissed about the report: He rejected the allegations in an all-caps tweet, calling it "FAKE NEWS." Trump's lawyer also denied the claims. (He's no fan of yellow journalism.)
But Trump should be reminded of his own famous quote: 
Naturally, though, the Twitter stream lit up with jokes. Here are Twitter's most golden puns about Trump's alleged pee proclivities. Just try to hold it in. 
This is a breaking news story and will be updated as more jokes become available.