Trump's rant about soaking mattresses gains double meaning after 'golden shower' report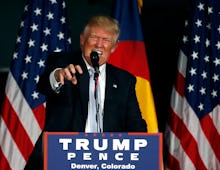 On Tuesday, an explosive BuzzFeed News report revealed the contents of a dossier that formed the basis of a top-level intelligence report provided to outbound President Barack Obama and GOP President-elect Donald Trump, alleging the Russian government has obtained compromising information on the real estate mogul.
Namely, that the Russian FSB recorded Trump in a Moscow hotel while he watched prostitutes perform a "'golden showers' (urination) show" on a bed once slept in by Obama and his wife, Michelle Obama.
Interestingly, it's not the first time the subject of Trump and wet mattresses has come up. In a July 29 campaign speech in Denver, Colorado, Trump insulted "stupid, stupid people" in the business community unfairly elevated by the government.
"Some of these people are vicious, horrible, miserable human beings," Trump said in the speech (starting at one hour, 24 minutes and 24 seconds). "Who cares? Who cares? Some of these people they don't sleep at night. They twist and turn and sweat."
"And their mattress is soaking wet!"
Stay gold, Trump.