Kellyanne Conway tells Seth Meyers #GoldenGate allegations against Trump are "not fair"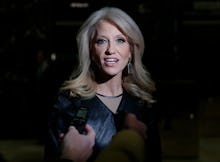 A cordial, if awkward, conversation between Seth Meyers and Kellyanne Conway grew tense at the first mention of the explosive new allegations that Russia has "compromising personal and financial information" that it could use to blackmail President-elect Donald Trump.
Conway, Trump's campaign manager who has also been named "counselor to the president," appeared on Late Night With Seth Meyers on Tuesday. After some strained getting-to-know-you banter, the host got right into the story that was breaking as the show began taping.
"While I was getting changed for the show, CNN had a report that the intelligence community briefed both the president and the president-elect with allegations that the Russian government has compromising information on President-elect Trump," Meyers said about two minutes into the interview. "I know this just happened — can you confirm or comment on the fact that the intelligence community has presented this to Donald Trump?"
Conway, smiling, interrupted and replied, "Well, guess what hasn't happened, Seth, nobody has sourced it. They're all unnamed, unspoken sources in the story, and it says it was based on a Russian investigator, to begin with, so where are we ... do we ..." 
Meyer corrected her to explain that, according to reports, the allegations came from a former British intelligence officer.
Watch a clip of the exchange below:
Conway doubled down:
"Right, well one of those, and then it said that it also may have originated with a Russian investigator. It also says that Hillary Clinton, groups that wanted Hillary Clinton to win, may have been behind the investigations themselves. And most importantly, it says that the FBI is trying to confirm it. So nothing has been confirmed. And I have to say, as an American citizen ... we should be concerned that intelligence officials leaked to the press and won't go and tell the president-elect or the president of the United States ... what the information is."
Later the two would discuss Trump's aggressive and often confounding use of his Twitter account to call out business leaders and other adversaries, as well as his refusal to hold an official press conference since the election (the president-elect does have a news conference scheduled for Wednesday).
You can see the full interview below: