Obama Farewell Address: 4 moments that reminded us how much we'll miss him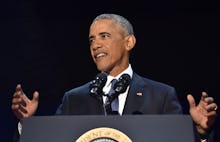 President Barack Obama delivered his farewell address to the nation Tuesday night from McCormick Place, Chicago. During his 50-minute speech, Obama highlighted some ways America has improved under his leadership. He spoke of overcoming the recession he inherited upon arriving in office in 2009. He also touted his administration's roles in carrying out the raid that killed Osama Bin Laden, legalizing gay marriage and providing health insurance to an additional 20 million Americans. 
Though he did touch on key threats to democracy, including fake news and economic inequality, Obama focused on the importance of maintaining a sense of hope and unity despite these threats. 
As Obama uttered his final "My fellow Americans," the legacy of his compassionate leadership shone brightly. Here are four moments that reminded us how much we'll miss our  president:
When he addressed his family
The Obamas have made family a central theme throughout their years in the White House. Early into his first term, Obama released a PSA in partnership with the Ad Council called "Fatherhood." In the commercial, the president, who is estranged from his own father, spoke of the impact that cultivating a relationship can have with your child: "Things get busy, and sometimes we all fall short. But the smallest moments can have the biggest impact on a child's life... Take time to be a dad today."
In his farewell address, Obama told his daughters that "of all that I have done in my life, I am most proud to be your dad." And just moments before, there seemed to be few dry eyes in the first few rows of the crowd when he expressed his gratitude to his wife, first lady Michelle Obama.
"Michelle LaVaughn Robinson, of the South Side," Obama said, prompting a long standing ovation from the audience. 
For the past 25 years, you have not only been my wife and mother of my children, you have been my best friend. You took on a role you didn't ask for. And you made it your own with grace and with grit and with style, and good humor. You made the White House a place that belongs to everybody. And a new generation sets its sights higher because it has you as a role model. You have made me proud, and you have made the country proud.
When he defended his record
Critics have long claimed Obama's presidency has created more problems than it's solved, but on Tuesday, Obama was more than happy to remind people of his record:
If I had told you eight years ago that America would reverse a great recession, reboot our auto industry, and unleash the longest stretch of job creation in our history — if I had told you that we would open up a new chapter with the Cuban people, shut down Iran's nuclear weapons program without firing a shot, take out the mastermind of 9/11 — if I had told you that we would win marriage equality and secure the right to health insurance for another 20 million of our fellow citizens — if I had told you all that, you might have said our sights were set a little too high.
Obama's presidency has seen the lowest levels of unemployment since Bill Clinton was in office. And under his leadership, the country pulled out of a recession that began in the last years of George W. Bush's tenure in the White House. More Americans have health insurance than any time in the country's history. Meanwhile, the Iran Deal has worked to ensure Iran's nuclear capabilities "remains exclusively peaceful." And, in case anyone forgot, it was under Obama's watch that the leader of Al-Qaeda, Osama bin Laden, was killed.
"But that's what we did. That's what you did," Obama said during his farewell address. "You were the change. You answered people's hopes and, because of you, by almost every measure, America is a better, stronger place than it was when we started."
The final appearance of "Cool Joe" Biden's finger guns
When Obama turned to Vice President Joe Biden and said, "You were the first decision I made as a nominee, and it was the best," many stood and applauded the vice president with teary eyes. But Biden, in classic Biden form, responded by giving us one last taste of excellence by way of finger guns:
The vice president's unwavering coolness aside, Obama commended Biden "not just because you have been a great vice president, but because in the bargain I gained a brother. And we love you and Jill like family. And your friendship has been one of the great joys of our lives."
When he responded to fears of a Trump presidency 
As Donald Trump's presidency looms closer, fears that Trump's administration will threaten the rights of Americans and weaken our foreign relations have amplified. Obama used his farewell address to remind people of the need to work together to fight against tyranny and oppression both at home and abroad:
Democracy can buckle when we give into fear. So just as we as citizens must remain vigilant against external aggression, we must guard against a weakening of the values that make us who we are...