Nintendo Switch Joy-Con and gamepad controller details revealed at livestream event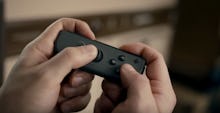 Nintendo just revealed the new Switch — and its release date, March 3, 2017. The console-handheld hybrid is largely defined by its Joy-Con controllers and their ability to function as home and mobile input devices. We haven't known much about them past the marketing, however, before today.
Nintendo Switch Joy-Con details: Introducing the control pad of the future
Nintendo has finally given the world its first, good look at the Nintendo Switch Joy-Con control pad during a livestream event broadcast from Japan. Announced during Nintendo's livestream, the Switch Joy-Con controllers can be purchased in gray, orange and blue colors. 
The Joy-Con will allow traditional gaming with the buttons on each controller. But the included motion control will allow Nintendo players to enjoy a more Wii-like experience. New original games like Arms (coming spring 2017) will make use of motion detection.
The Joy-Con controller will be integral for games like 1-2 Switch, a collection of mini-games playable on Switch. 1-2 Switch will launch alongside the console on March 3, 2017.
This story is developing.
More Nintendo Switch news and updates
For more info on what Nintendo revealed during its livestream, here's where you can get details on the Nintendo Switch price, release date, pre-orders, online services and battery life. If you're interested in the Nintendo Switch's games, here's info on the new Super Mario Odyssey game, Legend of Zelda: Breath of the Wild, Splatoon 2, Xenoblade Chronicles 2, 1-2-Switch and the goofy boxing game Arms.