'Zelda: Breath of the Wild' release date and trailer revealed for Nintendo Switch, Wii U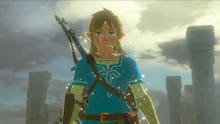 The Legend of Zelda: Breath of the Wild was revealed by Nintendo at E3 2016 and originally presented as a Wii U game. The game promises an open-world experience unlike anything we've seen from the franchise before, along with beautiful graphics and some cool new abilities for our hero Link.
Now, we finally know when the new Zelda game will arrive for both the Wii U and Nintendo Switch. The game is set to launch on March 3 alongside the new Switch console.
Nintendo did not reveal how much the new Zelda game will cost.
The latest Zelda game has been in development for an extremely long time, but it looks like this release was worth the wait. The upcoming entry in the Triforce saga looks absolutely stunning, with beautiful graphics, a massive world to explore and awesome new enemies.
Check out the new trailer for Zelda: Breath of the Wild below.
More Nintendo Switch news
For more info on what Nintendo revealed during its livestream, here's where you can get details on the Nintendo Switch price, release date, pre-orders and battery life. If you're interested in the Nintendo Switch's games, here's info on the new Super Mario Odyssey game, Legend of Zelda: Breath of the Wild, Splatoon 2, Xenoblade Chronicles 2, 1-2-Switch and the goofy boxing game Arms.