Michelle Obama goes back to one of her favorite fashion designers for farewell speech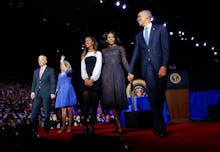 During his farewell address Tuesday night in Chicago, President Barack Obama took it back to the beginning. 
"Yes we can. Yes we did. Yes we can," he said, bringing back memories of his historic 2008 campaign and, for many, the feelings they may have had when he was about to enter the White House in 2009. 
In a more subtle way, Michelle Obama brought it back to the beginning too — through fashion. Tuesday night, Obama wore a navy blue lace dress designed by Jason Wu, a designer born in Taiwan, raised in Canada and now living in New York City. 
Wu has long been a favorite of hers. 
It was Wu who designed the white, sparkly, one-shoulder gown Obama wore to the inauguration in 2009. That dress now hangs in the Smithsonian Museum of American History. And it was also Wu who designed her second inaugural bright ruby velvet and chiffon gown in 2013.
Wu was also the designer behind the pink dress Obama wore on her first Vogue cover in 2009. 
By wearing this dress right now, Obama reminds us of some of her most powerful fashion moments in the White House by shrewedly calling back to designers who have played a part in those historical moments. She also reminds us of her dedication to shining a light on young designers, and most particularly, designers of color. 
For her final speech as first lady, where she said the words "I hope I've made you proud" while holding back tears, she wore a red dress by Narciso Rodriguez, an American designer of Cuban descent, who designed the dress she wore on election night in 2008. 
Obama's approach is a far cry from the first lady who will succeed her in the title come Jan. 20. Melania Trump has largely favored established white, male designers like Michael Kors, Ralph Lauren and Alexander McQueen. 
What these final Obama dresses also show is that she isn't dressing like a typical first lady. No, she's dressing like a celebrity. Over the past few months in particular, she's rebutted the idea that first ladies are to dress in stuffy skirt suits with pearls, instead opting for modern designs that are far more red-carpet-worthy than those worn by her predecessors. 
She wore Givenchy to the White House Correspondents Dinner, for instance. 
And to her final state dinner, she chose rose-gold, chain-mail-esque Atelier Versace.
But for her very last moments in the White House, she has chosen to recall the past and honor the designers who have served her so well these past few years in creating a legacy of accessible, beautiful fashion. 
And now we really can't wait to see what she wears on Inauguration Day.