A clip of Joseph Fiennes as Michael Jackson has been released and Twitter is horrified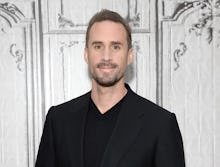 In early 2016, it was announced that Joseph Fiennes had been cast as the King of Pop, the late Michael Jackson, in a series to air on Sky Arts. If you are wondering whether you read the preceding sentence correctly, that is understandable. Fiennes, a white man, has been cast as one of the most legendary black musicians of all time. 
The series in question, Urban Myths, is set to premiere on Sky Arts on Thursday, Jan. 19. The first clip of Fiennes as Jackson has been released, and, well, we'll let Twitter take this one.
Joseph Fiennes and Urban Myths's director respond to casting
Fiennes responded to his casting in January 2016, telling Entertainment Tonight, "I'm a white, middle-class guy from London. I'm as shocked as you may be." The actor was aware that he might (obviously) receive some criticism for his portrayal of the icon, but told Entertainment Tonight he did not think race should play a factor. 
Jackson "definitely had an issue — a pigmentation issue — and that's something I do believe," the actor explained. "He was probably closer to my color than his original color."
Ben Palmer, who directed part of the Urban Myths series, defended the casting of Fiennes, telling the Guardian, "We were casting Michael Jackson in 2001 and that obviously is a challenge in terms of the physical resemblance." The director continued, "We were really looking for the performance that could unlock the spirit, and we really think Joe Fiennes has done that. He's given a really sweet, nuanced, characterful performance."
Palmer is hoping that audiences will give the program a chance, stating, "It's a really lovely, sweet film. I'm really looking forward to seeing how people react once they've actually seen it."
Urban Myths Trailer
If you have kept reading to this point, you can watch the first trailer of Urban Myths below: