Oscars 2017 Predictions: Could Emily Blunt finally get an Oscar nomination?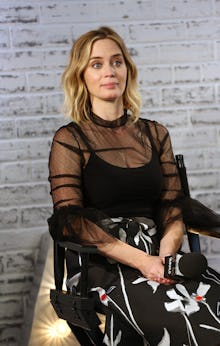 The best actress category has been a mess all awards season. Early favorites like Ruth Negga from Loving and Annette Bening from 20th Century Women fell by the wayside long before the Oscars race really ramped up. Meanwhile, Isabelle Huppert from Elle has become a near-certain contender and Meryl Streep from Florence Foster Jenkins is dominating headlines.
Emily Blunt, however, has emerged as a surprise contender for the best actress Oscar. She received a British Academy of Film and Television Arts nomination Tuesday for her film The Girl on the Train over Negga and Bening. This is fairly easy to explain away on its own: She's British and has been nominated before, for The Devil Wears Prada. Considering Huppert wasn't eligible (Elle hasn't been released in the United Kingdom yet), it's a natural choice.
Blunt was also nominated for the Screen Actors Guild's best female actor in a film prize, which makes her chances for an Oscar look a lot better.
As Rachel, Blunt is the best part of a bad movie, and boy, is The Girl on the Train bad. It's a miscalculated adaptation of Paula Hawkins' novel on nearly every level, with changes made for arbitrary and often silly reasons. It's a fun watch — any movie that features Lisa Kudrow showing up at the end to convince the protagonist that she's been gaslit would be — but it's not good.
But Blunt infuses her dim dialogue with smart choices and an understanding of Rachel's inner life. She's an alcoholic who lives in constant doubt of the world around her, because she can't remember what happened the night before. She is the sole reason to take The Girl on the Train seriously.
The tough thing is that this is such a competitive year for best actress. No matter how deserving Blunt may be, she's not more deserving than Negga, Bening or even Taraji P. Henson from Hidden Figures.
That said, at this point, she's probably in the top six to get in the Oscar race, with those three women standing firmly on the outside. The other five competing with Blunt are Emma Stone from La La Land, Natalie Portman from Jackie and Amy Adams from Arrival, plus Huppert and Streep.
It's tough to know how Streep's speech at the Golden Globes will affect her chances. She was cheered the night of, but has been on the receiving end of enormous backlash since. It could serve as her best boon (all publicity is good publicity) or damage her chances (too political a choice). That said, of the five other women, she's the most likely to lose her spot to Blunt.
Adams' movie Arrival is looking strong, with plenty of precursor support, including nine BAFTA nominations. Her other film in 2016, Nocturnal Animals, is performing surprisingly well among awards groups, too, which will give her a bit more exposure. Portman, despite a setback at the Globes, will still easily earn a nomination, and Stone is the frontrunner for the win. And again, Huppert is a near-certainty at this point.
So, if Blunt wants in, she'll need her former The Devil Wears Prada co-star to falter in the final legs of the race. If we were betting money, we'd put the odds on Streep — she's far buzzier right now as voting is going on, and buzz is almost always good. But don't be surprised if we hear Blunt's name on Jan. 24.