Simone Biles and Aly Raisman will appear in the 2017 'Sports Illustrated' swimsuit issue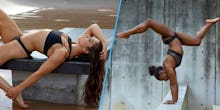 Unlike most of us, Olympic gymnasts Simone Biles and Aly Raisman had a rather superb 2016. They went to the Rio Olympics and came home with a bunch of medals. Biles was named female athlete of the year by the Associated Press. Raisman landed a Reebok campaign. 
Now 2017 is shaping up to be a good year for them as well, starting with them both being featured in the the 2017 Sports Illustrated swimsuit issue. 
On Tuesday, Sports Illustrated broke the news on their Instagram, posting images and a video of the Raisman and Biles shoot. 
By the looks of the shoot, they've swapped their bedazzled leotards for bikinis. 
The Sports Illustrated swimsuit issue has featured many athletes before, including Ronda Rousey, who landed one of the covers of the 2016 issue, and swimmer Amanda Beard, who was in the 2005 issue. This sort of photoshoot also isn't totally new for Raisman either; she posed nude for ESPN's body issue back in 2015. 
Nevertheless, it's still refreshing for athletic bodies like Raisman's and Biles' to be celebrated for being just as beautiful as, say, Gisele Bündchen's. 
"Aly and Simone represent all that is beautiful and strong and inspiring in women today," MJ Day, the editor of this year's issue, told Sports Illustrated's blog Swim Daily. "Women that are not only elite athletes, that are captivating and impressive in their own professional accomplishments (lots and lots of Olympic gold medals between them), but strikingly sexy and beautiful in front of photographer James Macari's lens. I love seeing them shine in an entirely different way in the Swimsuit issue and being able to share these gorgeous and powerful images with the world. These women, their beauty and what they can achieve know no limits."
Last year, Sports Illustrated made history by putting its first ever plus-size model, Ashley Graham, on the cover, so this move to include Biles and Raisman, who also defy the model standard, seems like further proof that Sports Illustrated is evolving to become more inclusive.