'Better Call Saul' Season 3 Rumors: Is 'Breaking Bad' character Gus Fring returning?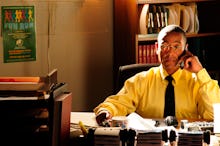 Aside from being just an all-around great show, Better Call Saul has served as a soothing balm for fans of its predecessor, AMC's Emmy-winning drama Breaking Bad.
True, there's no Walter White or Jesse Pinkman to speak of (the show is a prequel, after all), but there has been no shortage of familiar faces. In addition to main characters — and Breaking Bad returnees — Jimmy McGill, aka Saul Goodman, played by Bob Odenkirk, and professional hitman Mike Ehrmantraut, played by Jonathan Banks, the first two seasons of Saul have seen the return of supporting characters Tuco Salamanca, Hector "Tio" Salamanca, "the Cousins" and Domingo "Krazy-8" Molina.
But now, the most eagerly anticipated character appearance may just be within our grasp — Gus Fring. A teaser-ific commercial has been released online that all but confirms Walt's onetime nemesis, portrayed by Giancarlo Esposito, will be in the third season of Better Call Saul.
The commercial is a fake ad for the fast-food restaurant chain Los Pollos Hermanos, which served as the front for Gus' drug-dealing activities on Breaking Bad. And, yes, Gus himself makes a cameo at the end, all smiles and encouraging customers to "try our new curly fries."
This is not the first time Gus' return to Better Call Saul has been teased: Co-creators Vince Gilligan and Peter Gould owned up to spelling out the phrase "Fring's Back" in the season 2 episode titles last year.
Considering the last time viewers saw Gus half of his face had been blown off, it's a pleasure to see the character's contoured features intact once again.