'Arrow' showrunner addresses the CW's Laurel Lance spoiler promo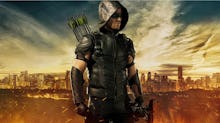 When Arrow season five returns on Wednesday, Jan. 25 for its midseason premiere, fans of the CW's hit series will see a familiar face: Laurel Lance. Arrow's explosive fall finale left Oliver Queen and his team in shambles. Team Arrow was betrayed by Artemis, John Diggle was arrested and Oliver was tricked by Prometheus into killing Felicity's new boyfriend. But perhaps the biggest shocker of the finale was seeing Laurel Lance presumably return from the dead. 
At the time of the fall finale's airing, there were a few possibilities on how Laurel Lance could have returned. She could have been resurrected, like her sister, in a Lazarus Pit. Perhaps she was picked up from the past by the Legends? Or, she could have been a Laurel Lance from another Earth, specifically Earth-2 (as she appeared on The Flash last season). 
Well, rather than keep the mystery alive, the CW seemed to spoil the fun when they released the promo for Arrow's midseason premiere. And suffice to say, Arrow's showrunners would have preferred the promo not have been so comprehensive.
According to TV Line, Arrow co-showrunner Marc Guggenheim discussed the revealing promo following the Television Critics Association winter press tour.
"Without commenting on the promo, which I have nothing to do with [and] without commenting on the spoiler, I would say that the episode ends with laying a very specific seed, with a very specific game plan on our part that we hope to see come to fruition," Guggenheim said. 
The promo in question (below) appears to reveal that Laurel Lance has not returned from the dead. Instead, since she can be seen utilizing her metahuman "Canary Cry" power, it is almost certain that we will be seeing the first appearance of Black Siren on Arrow. 
You may recall from The Flash's second season that Black Siren is the Laurel Lance from Earth-2, and she was sent to Earth-1 by Zoom to kill The Flash. She was eventually captured, but it appears that she has found a way to escape captivity. 
As to whether we may see one Canary or another suit up before the season finale, Arrow executive producer Wendy Mericle told TV Line there is "definitely a possibility." Mericle continued, "Look, it's hard to do a show about Green Arrow without having a Black Canary. I don't know if it will happen this season or when, but... we are going to be true to origins in the DC universe, and she's always going to be there."
Arrow's fifth season has thus far been a dramatic improvement over its lackluster fourth. Between the mystery surrounding Prometheus, the fractured team and Lance's surprise return, the latter half of season five should be an exciting one indeed. And for those that have not yet been spoiled by the promo, you will not have to wait much longer to learn how Laurel Lance has returned.
Arrow returns Wednesday, Jan. 25 at 8 p.m. Eastern on the CW.
Mic has ongoing coverage of Arrow. Please follow our main Arrow hub here.