Nintendo Switch Release Date: Leaks reveal new third-party accessories ahead of reveal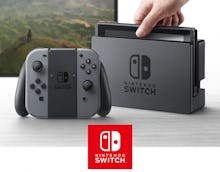 Try as they might, the folks at Nintendo can't completely stop Nintendo Switch information from leaking ahead of their big reveal event later this week. It's even more inevitable when Nintendo has to trust the companies that make third party accessories not to leak anything.
That trust was apparently misplaced in the case of Hori, a third-party accessory company that makes racing wheels, fight sticks and other popular accessories. 
Nintendo Switch Hori accessories leaked
These leaks come courtesy of Twitter user DroidXAce, who got his hands on some confidential documents showcasing Hori's line of Switch accessories:
There are more images in a thread on NeoGAF. The accessories run the gamut of things you would and wouldn't expect, from a car charger to a vertical display stand for the Switch's tablet screen. What stands out in particular is the arcade stick setup that Hori and other companies usually release for fighting games like Street Fighter on other consoles.
This is strange because, as of right now, none of the confirmed or rumored games for the Switch's launch window are fighting games. Could we see Tekken 7 or Marvel vs. Capcom: Infinite on Switch?
Nintendo Switch Leaks: Zelda accessories revealed?
There's also a The Legend of Zelda: Breath of the Wild package that decks out your Switch with Zelda-themed artwork. If that comes out alongside the Switch, it would make sense for that game to be a launch title.
Rounding out the list are game cases for Switch cartridges, a LAN adapter for online multiplayer, and a Hori "pro controller" that looks a bit like an Xbox One controller. Of course, it remains to be seen if any of these accessories will be worth buying, but one thing we can be fairly sure of is that they're real. Journalist Laura Kate Dale has been one of the most reliable Switch newshounds, and she confirmed the legitimacy of the images. 
More Nintendo Switch news and updates
Check out more Nintendo Switch coverage, including Mic's reports on whether the console will be backwards-compatible, if more characters are coming to Smash Bros., what current games we want high-definition remakes of and information about the upcoming Nintendo Switch event.