Ed Sheeran may have released his new album track list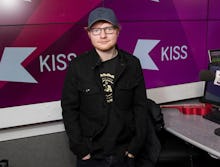 Ed Sheeran is rolling out details about his latest effort, presumably titled Divide, little by little. Friday he released two singles from the record, "Castle on the Hill" and "Shape of You," and a few details about what to expect from his third studio album. He shared the album's track list via Twitter on Wednesday, but has not revealed its official release date as of yet.
There will be 12 songs on Divide. The full track list, including his two previously released singles, is below.
1. Eraser
Sheeran's fans have been buzzing about his latest songs — which received many digital spins. The singer broke the record for most Spotify streams in 24 hours with his latest single "Shape of You." It was played 6,868,642 times the same day it was released, according to Billboard. "Castle on the Hill" was streamed 6,168,395 times. 
The singer surpassed the previous record holder One Direction, whose "Drag Me Down" was listened to 4,759,698 times on July 31, 2015.
Since the singles' release, Sheeran has revealed some fun facts about Divide. He originally penned Justin Bieber's hit "Love Yourself" for this album, but followed his instincts and decided to pass the song to Bieber, he told Carson Daly on 97.1 AMP Radio. He now sees that this was a good call.
That was a song I had written for 'Divide.' It just wouldn't have made it and then Justin [Bieber] took it and did his thing on it and released it as a single and made it what it is, so going from a song that would have never been released to — it was the biggest song of last year, it just became Billboard #1 of 2016 of the whole year, and be nominated for Song of the Year at the Grammys — it just shows you that you shouldn't always write stuff off.
On the flip side, he revealed to BBC Radio 1 that "Shape of You" was originally written with Rihanna in mind, but he kept that one for himself.
Sheeran is still putting the final touches on Divide, he told Daly, but all signs point to a new album dropping very soon.