'Peaky Blinders' season 4 filming to begin in March, scripts almost complete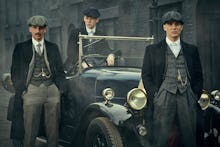 Peaky Blinders, the BBC/Netflix gangster series starring Tom Hardy, will begin shooting its fourth season in March. The hit show, which has earned a passionate fan base, was simultaneously renewed by BBC Two for both a fourth and fifth season. 
"I'm very, very excited because I'm just completing episode six of series four, which again I think is the best yet," creator Steven Knight told Deadline of the show, whose title refers to the secret weapon of hats that contain razor blades sewn into the brim. "And I'm loving it and it's not like work, it's not like a labor, I love doing it, and the boys are coming back and they're loving the scripts, and we start shooting in March." 
Season three of Peaky Blinders features stars Cillian Murphy, Tom Hardy, Paul Anderson and Joe and Finn Cole, as well as Helen McCrory, Sophie Rundle and Paddy Considine.
Hardy is currently seen on TV in the new period drama Taboo, in which he also collaborated with Knight. 
Set in the 1920s, Peaky Blinders follows the titular gang in Birmingham, England, led by the ambitious Tommy Shelby, played by Cillian Murphy. As the Shelby clan attempts to grow their criminal organization, danger and chaos are invited into their lives. Along with its grim criminal plot lines, the series also delves into social issues such as money and class as the Shelbys struggle for acceptance from high society while seeking power from their peers in the lower classes.
While Peaky Blinders' first season received mediocre reviews, the second season garnered a strong and growing fan base, with fans of the show including Snoop Dogg and the late David Bowie. 
Seasons one through three of Peaky Blinders can be watched on Netflix.