What time is the Nintendo Switch Presentation 2017? Countdown to livestream event begins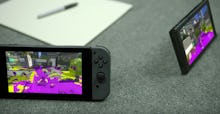 The Nintendo Switch event we've been waiting for is almost here, but you can countdown to the live stream starting right now. The company recently published an official YouTube Live video, giving you something to stare at while you impatiently wait for the actual Nintendo Switch presentation to begin.
What time is the Nintendo Switch presentation? Live stream countdown details
The Nintendo Switch presentation will begin at 11 p.m. Eastern on Thursday, Jan. 12. The company also included a helpful countdown clock in its YouTube Live video to tell you how many hours are left until the event's start time, along with a sidebar displaying previous Nintendo live streams you can rewatch while you wait.
Once the Nintendo Switch presentation begins, Mic will be covering the news live as it breaks. Stay tuned and keep refreshing our Nintendo hub for the latest details on the new console and the games it's set to offer.
More Nintendo Switch news, rumors and leaks
While you wait for the Nintendo Switch presentation to begin, take a look at some of Mic's recent coverage: A bunch of Switch accessories recently leaked and GameStop may have accidentally revealed the full list of games for the system. You can also check out the latest reports on Switch specs and the console's rumored price.