What will happen in the 'Arrow' midseason premiere? Season 5, episode 10 synopsis released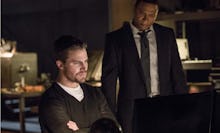 Arrow is set to return to the CW from its winter hiatus on Wednesday, Jan. 25 for what promises to be an exciting latter half of season five. As things were left in the fall finale, Prometheus, this season's big bad, has gotten the upper hand on Oliver. Not only was it revealed that he (or she) has been working with Team Arrow member, Artemis, but the villain was able to trick Oliver into killing Felicity's new boyfriend, Detective Malone. This, of course, has left Felicity devastated.
The back half of season five is set to explore the ramifications of several of these events, as well as the mysterious reappearance of Laurel Lance, who died at the hands of Damien Darhk in season four. While a promo for the next episode made the rounds several weeks ago, the CW has now released several new images, as well as the synopsis for season five, episode 10, titled, "Who Are You?"
You can check out the synopsis and several of the images below:
OLIVER WANTS JUSTICE; FELICITY WANTS REVENGE -- Worried that Prometheus is right and he is truly a killer at heart, Oliver (Stephen Amell) looks for any ray of hope and finds it in what seems to be the miraculous return of Laurel Lance (guest star Katie Cassidy). However, Felicity (Emily Bett Rickards), still reeling from Detective Malone's murder, is bent on revenge -- she wants to stop Prometheus at any cost. While in prison, Diggle (David Ramsey) fights for his life. Gregory Smith directed the episode written by Ben Sokolowski & Brian Ford Sullivan.
Mic has ongoing coverage of Arrow. Please follow our main Arrow hub here.