5 of Obama's most important policy moves that flew under the radar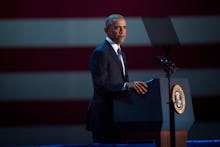 When he leaves office next week, President Barack Obama's legacy will be marked by some historic wins, from the assassination of Osama bin Laden to the passage of the Affordable Care Act and marriage equality.
But the Obama administration has overseen a wealth of policy change that extends far beyond its most landmark moments. Here are five matters on which No. 44 has made his mark over the past eight years:
Income inequality and job creation
Income inequality moved front and center during Obama's tenure, boosted by the work of Occupy Wall Street and Sen. Bernie Sanders' presidential campaign.
But many don't realize that the Obama administration has done much to mitigate the effects of income equality. Through the Affordable Care Act, changes to the tax codes, expanding the Supplemental Nutrition Assistance Program (food stamps) and preventing teacher layoffs, Obama "has overseen the largest increase in federal investment to reduce inequality since the Great Society," according to a September White House report. 
Similarly, a study by the Congressional Budget Office found that while inequality across pre-tax incomes remains high, taxed income — which takes government assistance such as Social Security into account — is more equal it was than under Bill Clinton and George W. Bush in the late 1990s and mid-2000s.
In addition to income inequality, there are also more income-producing jobs than before: December marked the 75th consecutive month of job growth, which, the New Yorker reported, is a record for the modern era. According to the New Yorker, 15.8 million jobs have been created since early 2010.
Fuel efficiency
Obama's tenure has also been marked by his consistent efforts to mitigate the effects of climate change, from his role in the 2015 Paris treaty to the far-reaching Climate Action Plan his administration first outlined in 2013.
One of the ways Obama has tried to help the environment is through the passage of sweeping fuel efficiency policies that would double fuel efficiency for cars and light-duty trucks by 2025, as well as enact new fuel-economy standards for larger vehicles. The policy was heralded as a way to cut costs for drivers, reduce greenhouse gas emissions and promote economic growth and innovation for auto companies.
"These fuel standards represent the single most important step we've ever taken to reduce our dependence on foreign oil," Obama said in a statement when the policies were first announced in 2012. "This historic agreement builds on the progress we've already made to save families money at the pump and cut our oil consumption. By the middle of the next decade, our cars will get nearly 55 miles per gallon, almost double what they get today. It'll strengthen our nation's energy security, it's good for middle-class families and it will help create an economy built to last."
The policy, however, is now at risk under the incoming Trump administration, as the new fuel standards must be approved by the Environmental Protection Agency by April 2018 — which may soon be under the command of noted climate change doubter Myron Ebell.
Student loans
While the Affordable Care Act was the main focus of the Health Care and Education Reconciliation Act of 2010, the legislation also had sweeping effects on federal student loans. The policy cut out the private banks that had been government-guaranteed loans, and laid out more favorable repayment terms. Under the new policy, students' loan payments are now based on 10% of their discretionary income, down from 15%. The act also shaved five years off the age at which a loanee would be eligible for student loan forgiveness, from 25 to 20. In 2014, Obama then signed a memorandum expanding these efforts.
Over 44 million Americans have student loan debt — approximately 71% of students graduating from four-year colleges, as of 2012 — making any attempt to relieve this burden on young professionals an important political step. But Obama's policies aren't without their flaws: A study by the Government Accountability Office found that loans issued between 2009 and 2016 cost $53 billion, more than double the projected amount of $25 billion. The government, according to the study, loses $21 for every $100 on every student loan using Obama's income-based repayment plan.
Drone strikes
One of the more contentious aspects of Obama's presidency has been his ramped up use of drone strikes. There have been 10 times as many drone strikes during Obama's tenure as under President George W. Bush, the Washington Post reported.
In a 2014 speech, Obama said the country must take strikes "only when we face a continuing, imminent threat, and only where there is no certainty — there is near certainty of no civilian casualties." The administration also released a 2013 report outlining the decision-making framework behind approving and conducting the drone strikes. Still, the risk of civilian death posed by drones has raised questions of morality among many. A report released by the director of national intelligence reported there were between 64 and 116 noncombatant deaths as a result of strikes conducted between January 2009 and December 2015.
Immigration
Obama has not been able to achieve the sweeping immigration reform he hoped: A campaign promise he made to introduce comprehensive immigration reform in his first year never came to pass, while an ensuing plan was struck down by the Supreme Court. 
Furthermore, the Obama administration has deported more immigrants than any other president in history — and more than those deported under all 20th century presidents combined.
But Obama has been able to enact some important immigration protections. The Deferred Action for Childhood Arrivals, or DACA, program granted temporary legal status to over 700,000 "DREAMers" who were raised in the United States. Additionally, the Central American Minors Program, which was further expanded in 2016, eases the immigration process for minors coming from El Salvador, Guatemala and Honduras.