The resistance to Trump will be Obama's true legacy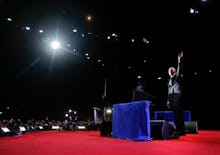 Chicago — Vendors auctioned off "hope and change" pins as ardent supporters packed into McCormick Place, Chicago's main convention center, by the droves. Inside the complex, teary-eyed students roared "Fire up, ready to go!" as they waited to see President Barack Obama address America one final time.
For Obama's most devoted followers, nothing else seemed to matter Tuesday evening — not the circus of an election the country had just witnessed nor the disappointment that America failed to elect its first female president. The clock had turned back, at least for a moment, to that blissful night in 2008 when Obama won the presidency and addressed his supporters in the very same city, on the back of one of the largest grassroots movements in modern history. 
"I will never forget who this victory truly belongs to. It belongs to you," Obama told his supporters during his 2008 victory speech, reflecting the idea that change comes from everyday people doing extraordinary things in their own communities.
Obama's theory of change again took center stage on Tuesday.
"This is where I learned that change only happens when ordinary people get involved, get engaged, and come together to demand it," the president said. "If something needs fixing, lace up your shoes and do some organizing. If you're disappointed by your elected officials, grab a clipboard, get some signatures, and run for office yourself."
As 18,000 people filed out of the convention center, the mood was far more somber. Reality sank in. In just 10 days, Donald Trump would take office and begin to dismantle Obama's signature achievements, chief among them the Affordable Care Act. And yet, while the landmark legislation is all but certain to be repealed, Obama's supporters who are concerned with protecting his legacy need not despair. The true test of Obama's legacy is not in his policy, but in the potency of the grassroots movement he carried with him to the White House.
Talk to Obama insiders, and they'll be the first to admit they got complacent over the last eight years.
How fired up and ready to go are Obama's supporters, really? How many millennials will get inspired by Obama's example and decide to run for office? How often will citizens donate to the causes they care about in the wake of the election? How many hours will people spend volunteering in their local communities?
It's far too early to know. But there are encouraging signs. Hundreds of millennials recently participated in the Arena Summit, a new initiative encouraging young people to run for public office that was launched after the election. Organizations like Planned Parenthood and the ACLU have seen an unprecedented rise in donations since the elections. Four congressional staffers launched the Indivisible Guide to resist Trump, which is being used as an organizing playbook in meetups across America. In the hours leading up to Obama's speech, hundreds of former staffers and volunteers organized meetings across Chicago to plot their resistance and exchange ideas about how to reactivate the president's grassroots coalition in response to Trump.
Talk to Obama insiders, and they'll be the first to admit they got complacent over the last eight years. But they now say they're inspired to mobilize in new and creative ways. What shape that resistance takes on will be the truest sign of the strength of Obama's legacy.
As Obama told his supporters in the closing moments of his speech, "I am asking you to believe. Not in my ability to bring about change — but in yours." Only time will tell.